Dog Grooming Courses
Here at Absolutely Animals Ltd, we cover a wide variety of topics and content in our professional dog grooming courses, our courses are flexible and tailored to the individual learner entirely.
Our dog grooming courses are unique as you will see from our reviews. Our goal is not only to teach you the skills of dog grooming but that you can actively groom for a living, without supervision at the end of your course.
Are you looking for a career change, interested in becoming a professional dog groomer, but have no experience in dog grooming?  Do you want to work in a salon, in a van, or in your own home? Employed or self-employed?

You will need to book one of our Dog Grooming for a Living Courses – The Gold and Platinum courses include everything you need, including the dogs to work on, in-depth theory programmes, City and Guilds qualifications and specialist supervision and tutoring.
We have the tried and tested practical dog grooming courses, teaching you to groom for a living. Fill out the forms and get yourself booked on your course today.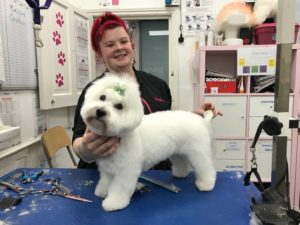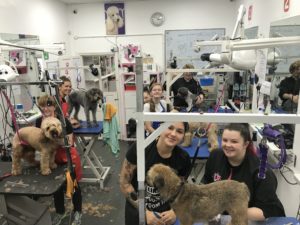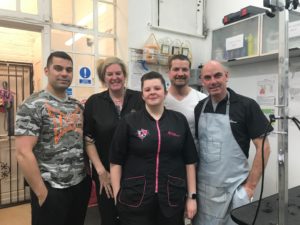 Click on the tabs below for information
Where can I find City & Guilds dog grooming courses near me?
If you are looking for professional dog grooming courses near by, you may want to travel that extra mile and visit us at Absolutely Animals. We are where the professionals come to train and learn all about dog grooming and get qualified in the many aspects of dog grooming. We train dog groomers from all over the UK and internationally. Your local dog groomers near you were probably trained by one of our highly qualified professional dog groomers at Absolutely Animals Ltd.
Where are we?
If you are local or in the area then do stop by! We would be happy to discuss our dog grooming courses and explain the course features.
Our address is: Absolutely Animals Ltd, 43B Burnt Ash Hill, Lee, London, SE12 0AE
How to get here by train
Our business location is conveniently located just a few minutes walk from the Lee, Southeastern Train Station and tickets are readily available online, but please do contact us prior to travelling if you do not already have a pre-arranged appointment.
Need help or have a question?
If you have a question or need more advise then contact us today, we're here to help!
Dog Grooming Course Reviews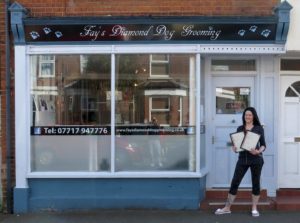 "I am so pleased I turned to Absolutely Animals to become qualified. My experience completing not only my Level 3 intro but also Level 3 Diploma with this school has been so fulfilling and rewarding. Absolutely Animals has such a friendly welcoming atmosphere which instantly puts you at ease. Heidi and Christine guided me through the entire process all the while making me feel supported.
Not only has this experience given me confidence and helped my self esteem but I now have the credentials which are proudly hung on my wall in my salon. The whole experience made me realise you can fulfil your dreams and goals if you put your mind to it.
Absolutely Animals aftercare is second to none with a support group making you feel like part of a community/family and never alone. It is a great comfort to know Heidi and Christine are only at the end of a phone or social media resting my mind that they are there to encourage me throughout my career.
Heidi and Christine have selflessly taken it upon them selves to offer pretty much a lifetime guarantee with their courses. I promise you will not regret choosing this as your school of education."
– Fay Greene – Fay's Diamond Dog Grooming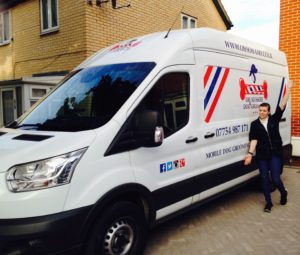 "Thank you so much to everyone at Absolutely Animals – Heidi and Christine are amazing tutors. I highly recommend training at Absolutely Animals. The knowledge that I have learnt from them has helped me to start my own Dog Grooming Business.
I did the 22 day introductory course with the City and Guilds Qualification, and I can honestly say it was the best thing I have done. The course is really hands on and practical – it's great to be able to get stuck straight into grooming dogs. The theory side of the course gives you an insight of all the important information that you need know being a Dog Groomer; on how to handle dogs in the correct way, noticing parasites, and even knowing the signs of when a dog is getting stressed, exhausted, etc.
The course is very informative and gives you the confidence to know you can go out and groom a dog in the correct and safe way. Even after finishing the course Heidi and Christine are always there if you need any advice. There is also a Facebook page for everyone that has trained at Absolutely Animals which is great to ask questions and get advice from all the students. Heidi also holds seminars at the shop as well, so the learning never stops. I did my Animal First Aid training there, and found the Handling Difficult Dogs seminar really helpful and useful.
If you are interested in becoming a Dog Groomer, I highly recommend Absolutely Animals. They even do taster days so you can have a feel of what the course would be like. You will not be disappointed.
Thank you Heidi & Christine for all your help throughout the course. I wouldn't have my own mobile Dog Grooming business if it wasn't for Absolutely Animals!"
– Lucy Tallant –  Oh So Hairy Dog Grooming
                                                                                      _____________________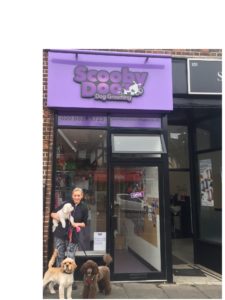 "I'm the owner of Scooby Doos in Eltham on Westmount Road and I have now been grooming dogs almost three years. Prior to that I was a retail area manager, working 24/7 and always stressed – I had very poor work-life balance. This all changed when my husband came up with an idea when I was having to wait two months to get an appointment at my local grooming salon for my King Charles Spaniel. At first I thought he was joking, but it really developed from there.
Straight away I started to look for premises and a training school – that's when the fun started. I was overjoyed to find somewhere so close! I started my journey at Absolutely Animals, signing up for the Platinum Dog Grooming Course. On my first day I thought I would never get it, but everyone was so friendly and helpful that by the end of my course, I felt so motivated and confident that I just knew it was the right career for me.
I completed my City and Guilds Introduction into Dog Grooming; the hands on practical experience together with the written course work was all well-supported by Heidi and Christine and the rest of the team at Absolutely Animals. Their experience, knowledge and support was amazing and all done in a friendly and approachable manner. They were always on hand to offer advice and expertise on the coursework which was a great relief given my school days were many years ago.
The result of all this has given me a new career and allowed me to open my own business, which I absolutely love. I have a new set of friends, new colleagues and a great support network. I've developed new hobbies and I'm still willing to learn and develop new skills. Thank you Heidi and absolutely animals for making it all possible".
– Maxine Gadd –  Scooby Doos Dog Grooming
"Heidi and Christine are always on hand with their expertise and advice, long after your course has finished, helping you whenever you need it. It's also nice reading the other students stories and advice on the Facebook page. You are an inspiration to us all! Thank you." Helen Roper
"The ongoing support continues long after training has finished. Heidi and Christine are very down to earth and encouraging – they become like extended family and the opportunities they offer are there for however far you want to go." Sue Wright
"After a fantastic course experience, the thought of suddenly going out on your own is quite daunting! The Absolutely Animals Facebook group offers lots of support and a feeling of community. You're free to ask questions and bounce off fellow groomers varying in experience without feeling judged. Heidi and Christine are amazing and always there to offer advice and support. One of the best decisions I've ever made, thank you!"