Dog Grooming and Cat Grooming in London
Welcome to Absolutely Animals, we are pet groomers with over thirty years in the business of Dog Grooming and Cat Grooming in London.
Our team have extensive knowledge that you can trust, ensuring your pet, or future carrer, is in confident and in caring hands.
The staff here are fully City and Guilds qualified in dog and cat grooming, with International qualifications as well as British and International Award Winning Groomers.
Free Consultation
We know that every pet is different and will give you a FREE consultation for the most suitable and safest grooming plan for your pet.
Bring a picture of the style you would like for your pet, and the staff will help you achieve that look.
Many people search for 'Dog Groomers Near Me', but if you are looking for an award winning team of dog groomers, who will have your dogs best interest at heart, then you may want to travel just that bit further to visit us in London.
Professional Grooming Courses
Absolutely Animals also offer Dog Grooming Courses and Cat Grooming courses in London for any pet owners which would like to learn to groom their own pet, or even take up pet grooming as a career. People looking for a career in dog or cat grooming can gain a City and Guilds qualification with us too and work with some of the most talented groomers in the country.
If you are interested in having your pet groomed, or taking up a career in grooming, please browse through the website for more information, or give us a call and we would be happy to discuss further.
Over 30 years in the business of Pet Grooming
During the 30+ years in the business of Pet Grooming, we have become a role model and have set standards that are recognised in the pet grooming industry, ensuring pet welfare is the top priority above all else.
Covid-19 Update
Dear Customers: Update 03/02/2021
We are OPEN
We wish to follow the Updated Government Guidelines 11/01/21 for pet grooming which states that grooming should be put off at this time wherever possible to help stop non essential journeys and stop the spread of covid.
We are open for any dogs and cats which need grooming that cannot be put off. This may be overgrown nails, dirty bottoms, hair in front of the eyes, extensive knotting which could cause the pet discomfort or veterinary referrals etc.
Please follow government guidelines and stay home, stay safe and help stop the spread of covid. Only leave your house if absolutely necessary.
Thank you for your patience and loyalty at this time while we have all been supporting the NHS during the Covid 19 Pandemic.
We have prepared guidelines  for all customers to follow when visiting the salon, please read them before visiting. We also have regular covid cleaning regimes in place.
If you would like an appointment, please call us and leave a message.
020 8857 2888
A Clean Pet is a Happy Pet
We express our creativity enhancing the beauty and wellbeing of your pet. The benefits of professional grooming include:
• Aerating the coat and ensuring healthy growth
• Removing knots, mats and dead hair from the coat
• Stimulating the skin and promoting good blood circulation
• Health checking your pet all over
• Trimming nails and cleaning ears
• Looking great and receiving good attention
 'Big and Small – we groom them all'
Client Testimonials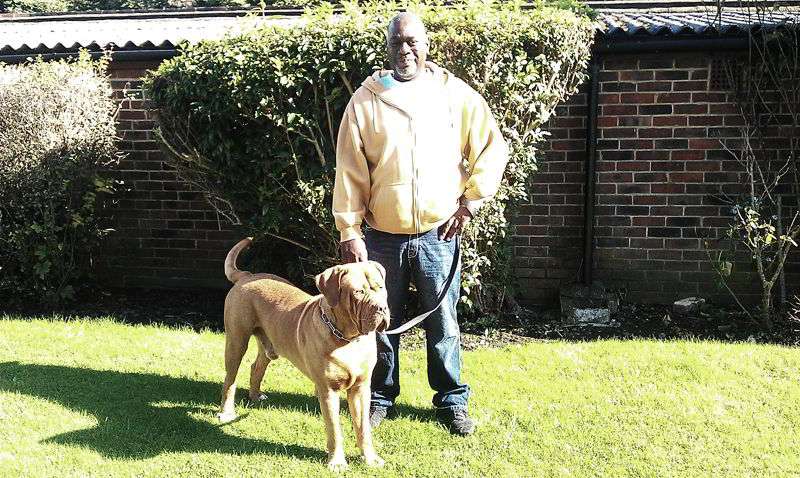 David with Zeus
I found Absolutely Animals as I passed by and went in to inquire as my dog, Zeus - a dog de Bordeux, had contracted a fungal infection. The staff were knowledgeable, helpful and wonderful in assisting me. Thank you Absolutely Animals!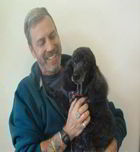 Mike with Bessie
I have been coming to Absolutely Animals for 6 years and know Bessie is well treated, loved and always returns with a top quality haircut. I wouldn't dream of taking my dog anywhere else. I am also happy with students learning on my dog as i know they are well supervised and instructed.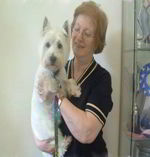 Bette with Barney
I have been coming to Heidi since 1997, which is the best recommendation I can give. I am very fussy about my groomer and Heidi is the best! My dogs always 'chomp at the bit' to get into the shop. The students are friendly, polite, well turned out and are lucky to be taught by true professionals.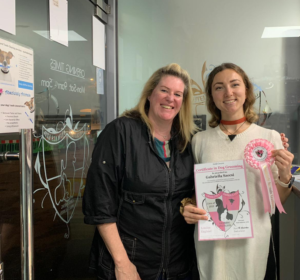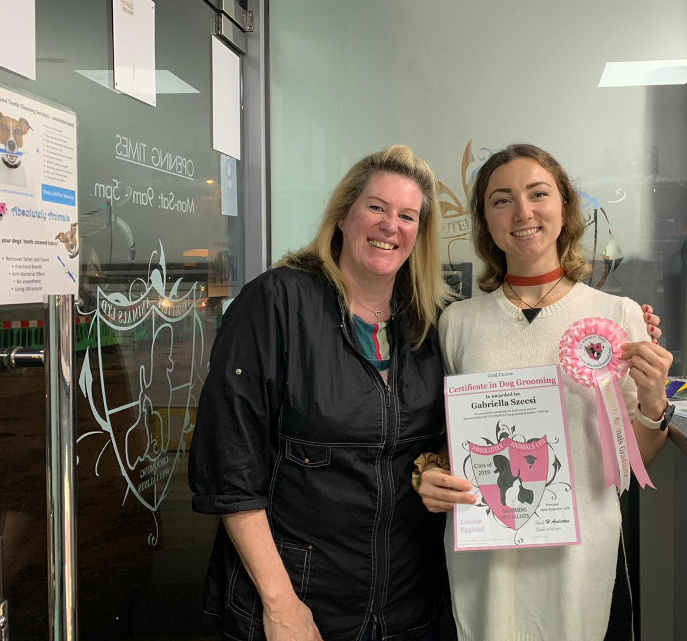 "I have completed the gold course of dog grooming and now I watch some other professional dog groomers videos online and I ask "Why aren't they using the right technique instead of making it all difficult for them self and for the dog??" And that's when I realise that NOT EVERYONE WAS TRAINED AT ABSOLUTELY ANIMALS DOG GROOMING SCHOOL!!!
😀 
😀 got a lot more out the course than I payed for! The course fee is not cheap but you get a lot more than you'd expect! Tonnes of knowledge! I got tools I can start working with straight away! Tonnes of knowledges on different techniques, Confidence building practise and a big variety of dogs to learn on, AMAZING PEOPLE TO LEARN FROM! If I struggle with something I just picture them doing it and it all comes back to me 
🙂 it was great fun to be part of the team! I want to come back 
🙂 also I wasn't in the best place when I started the course but the whole team was so supportive and encouraging, I can not thank you enough for what I have taken away from the whole experience!" –
Gabriella 2020
Dog Grooming Courses
If you are interested in becoming a professional dog groomer, then we have the perfect dog grooming courses for you. Our dog grooming courses cover a wide variety of topics and are tailored for individual learners and their requirements. We can train you to get the right dog grooming qualifications and experience needed to become a professional dog groomer. Wherever you are in your dog grooming career, we have the right dog grooming course for you.
Have a look through our dog grooming courses page to see the courses available.
Cat Grooming Courses
Our cat grooming courses are becoming extremely popular and are purrfect for those wishing to become a professional cat groomer or gain qualifications in the cat grooming industry. Our cat grooming courses range from basic beginners to existing professionals looking to improve and gain additional qualifications in this sector. Our cat grooming courses cover a wide variety of topics and are tailored for individual learners and their requirements. Whether you are an existing dog groomer looking to expand your business into cat grooming or starting your own cat grooming business, we have the cat course for you.
Have a look through our cat grooming courses page to see the cat courses available.
"I could not recommend anywhere else to get your grooming certificate.
Do not fool yourself with cheaper courses. The money you invest here is for a profession for a lifetime because you will leave as a skilled groomer.
Christine and the team are so knowledgeable and they guide and teach every single detail you need to know.
I got my level 2 certificate and I'm now working full time as a groomer and I could not be happier.
Their grooming is the best I've ever seen! It's like flawless.
So if you want to learn from the best this is the place!"
Dami 2020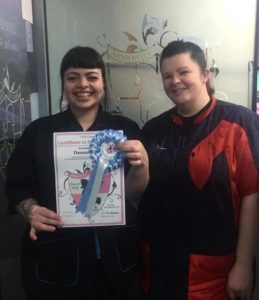 International Certification of Dermatological Grooming
International School for Canine Psychology & Behaviour
British Isles Grooming Association
Qualified Groomers Directory
 Full CCTV in operation
Give us a call on

020 8857 2888

for a booking or enquiry.