Body clipping can range from just a couple of areas to removing the whole coat. The goal of this service is to create a flexible, comfortable, and low-maintenance look for your cat. It's a common service with a beautiful finish, and one we often recommend.
Body clipping can be requested by the owner as a preference or because the coat is matted and requires removal.
Body clipping entails removing only matts in order to save as much coat as possible. The coat left behind will usually cover the areas removed.
Lion trimming consists of removing all of the panel/sanitary and body coat from the shoulders to the base of the tail.
Extended Lion Trim consists of removing all panels/sanitary and coat from the top of the neck to the base of the tail.
Plume Tail Leaving the whole tail from the base to the tip.
Clipping 2/3 of the tail and leaving the lion pom on the tip of the tail.
On all trims, the hair on the legs will be left on – usually just below the elbow.
We have been grooming cats for over 30 years.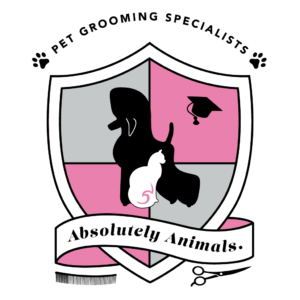 Matting has to be cut away from underneath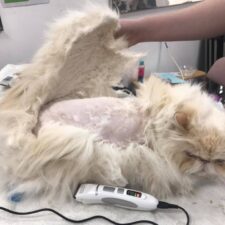 Matting is uncomfortable for cats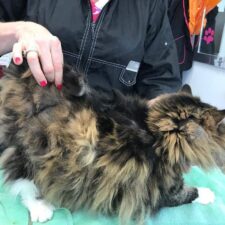 Short areas clipped away can be covered by long areas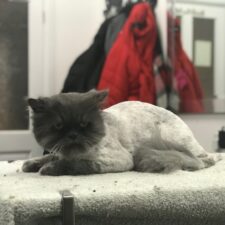 Lion trims are low maintenance for the right cats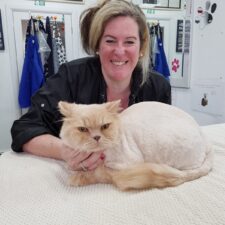 Useful Information
We recommend resisting any cutting of the coat if possible, as not only does it spoil the natural beauty of the cat, but it causes the hair to grow back thicker and longer, and sometimes can stunt the regrowth!
Matted hair is uncomfortable for a cat and needs to be clipped off the cat by a professional.
Never use scissors on a cat; their skin is extremely loose and thin and can be cut easily.
If left, matts will restrict the movement of the cat and tear the hair out of the skin.
Once matting is removed, damaged skin is often uncovered where hair has been pulled out.
After matt removal, please discuss with our groomer a future grooming plan to avoid further matting.
Regular grooming avoids matting, keeps the skin healthy and makes cats happy.
What our Customers say...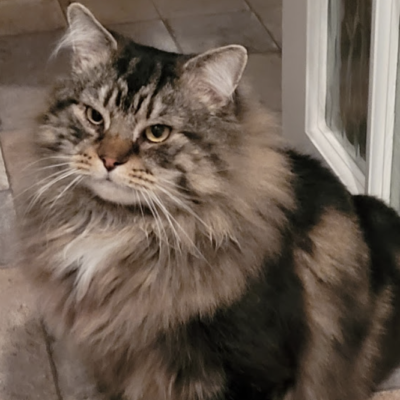 Review by Graham Watson
---
Have taken our rescue cat Ollie to AA twice this year for grooming as he is a large long haired tabby and needs lots of brushing. AA were brilliant, great service and very friendly and knowledgeable staff. - Graham Watson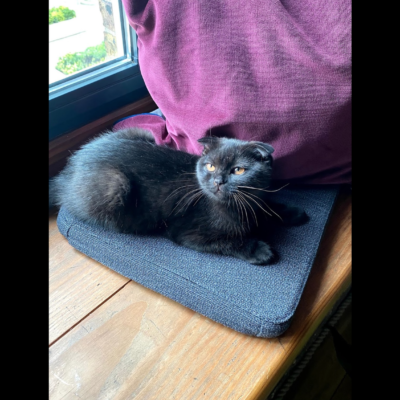 Review by Alessia Stroni
---
"My cat Nyx is only about 4 months old now and she went in for a wet bath, conditioning, nail trimming, and ear cleaning. I am very pleased with the Absolutely Animals service! She smells very clean and her coat is shiny and fluffy. I will be going back in 8 weeks for another cleaning!" Positive: Professionalism, Quality, Reliability, Responsiveness Alessia Stroni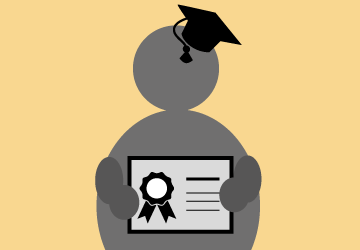 Friendly Review from Lee Gray
---
"Friendly and professional service. Overwhelmed how different our cat's fur felt after her grooming, her belly was a mass of matted fur and she didn't like us going near there with a brush. Fantastic job so happy I made that call thank you." Lee Gray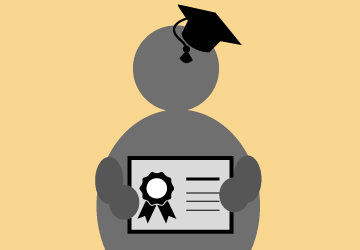 Theodore the Cat 2021
---
"Absolutely lovely. The team really looked after Theodore, I was worried as he can be nervous at times, however, he was so relaxed. Looks amazing, one happy cat. Thank you so much" Martin Joyce 2021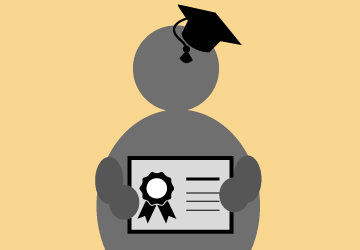 The Staff Were So... And the Results... Amazing.
---
"My cat HuHu got a nice grooming out at Absolutely Animals. The staff were so friendly and the results is amazing! His coat is smooth as silk now! Also I got some nice advices on how to do grooming at home. Absolutely worth to try if your cats have matted hair issues!" 2021 Review
Please call us. We have a dedicated team of specialists to help you. Call 020-8857-2888
We groom cats on Thursdays, Fridays and Saturdays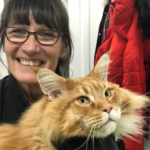 Don't delay if you need
help with your cats coat maintenance.
Call us. We can help!
Helpful Links
Some shortcuts to assist in navigating the website more conveniently.