An award-winning and industry leading pet grooming business providing exemplary grooming services to all dogs and cats, no matter their size.
Dental Hygiene for Dogs that Works!
Ultrasound cleaning is a new technology for cleaning dog teeth, a state-of-the-art oral hygiene technology that performs better than manual and electric toothbrushes.
With this service, you can achieve the most effective dental hygiene for your dog; cleaning without movement, vibration, or noise makes it acceptable for all dogs.
No anaesthetic is required.
Ultrasound removes tartar and stains, freshens the breath, and kills bacteria with no harmful side effects.
Ultrasound Cleaning is the Most Effective Dental Hygiene for Dogs that Works.
Ultrasound Teeth Cleaning Session
Dogs will require 1 – 5 sessions
2 sessions are usually for dogs with moderate tartar and staining
Just £40 per session
Only £25 for top-up sessions thereafter (see t & c's)
Avoid dental vet bills with regular plaque and tartar removal
These teeth cleaning service does not count as a veterinary inspection
You have the option to buy your own brush head for only £10.00
Call us now on 020 8857 2888 to book now
The Advantages of Teeth Cleaning for your Dog
Fast and highly efficient, antibacterial deep cleaning
Tooth cleaning and tartar removal without the risk
New plaque and tartar formation are prevented
Cleans without movement, vibration or noise – a benefit for sensitive teeth and gums
Cleans where bristles cannot reach (e.g gum pockets, interdental spaces, deep fissures)
Improves blood circulation and lymph flow
Reduces and prevents unpleasant mouth odours and caries (decay or crumbling of a tooth or bone)
Whiter teeth
Dental hygiene is performed in the comfort of your dogs' groomers
Save veterinary fees
No harmful side effects
Only a 30-minute session
The antibacterial effect eliminates pathogenic bacteria on the teeth, gums and especially in the gum pockets
Some before and after pictures...
Try Ultrasound Teeth Cleaning at Home
If you have more than one dog or fancy regularly cleaning your own dog's teeth, you can buy the brush and kit from us.
It is very easy to use, watch the videos below and learn all about the technology of the brush, how to use it and the great effects it will have on your dog's teeth, minimising and often negating the need for teeth cleaning under anaesthetic.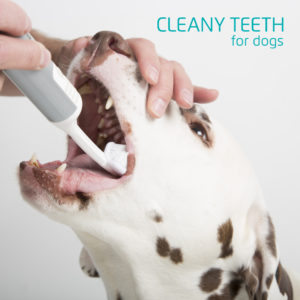 Introduction to Cleany Teeth!
Booking an Ultrasound Dog Teeth Cleaning Session
Before booking, please complete our Teeth Cleaning Consent Form.
This form gives us permission to clean your dog's teeth and also ensures you understand the process and what is involved.
To book your dog's teeth cleaning session, please call to arrange a booking or book online using the right box. It is important to complete the Teeth Cleaning Consent Form first, as we cannot clean your dog's teeth without the form.
Booking your dog's teeth cleaning session is quick and easy and only requires a few pieces of information along with the consent form.
If you have any questions about your dog's teeth cleaning session, then please include them in the message section of the booking form and we will be happy to answer them. You may also call us with any questions you may have about the ultrasound teeth-cleaning process.
Please note: Your dog must accept the mouth and teeth to be touched for us to be able to provide this service. Please try this at home before you book.
Call us to book teeth cleaning appointment on 020 8857 2888 or book online.