Invest in your learning with our team of highly qualified and international award-winning groomers!
What are your grooming courses?
Our grooming courses are developed and overseen by Heidi Anderton LCGI ICMG, an International Certified Master Groomer. You couldn't ask for a better foundation in your career in dog and cat grooming.
Our main dog grooming courses go by "Groom for a Living", which includes bathing, drying, and styling the dog. Grooming courses include the City and Guilds qualification pathway for dog groomers. (Level 2 and Level 3), which are offered holistically. Our tutors are all level 3 diploma qualified and they have a fantastic support team to make your time welcoming, comfortable, and happy.
Our cat grooming courses are split into two categories: standard and advanced. Cat grooming has become more popular over time, and having the skill to groom a cat could be a significant advantage.
We also teach professional dog groomers who wish to further their qualifications and skills in certain areas, for example, hand stripping, scissoring, handling, etc.
All our students receive practical dog grooming in a commercial environment on site, with a robust theory programme running alongside it, which is to be completed mostly at home.
What makes us different from a college setting?
Our tutors have been teaching for over 30 years and are also internationally award-winning groomers who have a wealth of additional skills and tricks of the trade to pass on to you, which are not in the qualifications. We will teach you the most up-to-date skills required to groom for a living. This takes place in a normal commercial salon environment, with a flexible plan of dates to suit you, so you can fit the course around home commitments.
Our hands-on grooming is balanced with a robust theory programme. We have a diverse range of breeds and pets with diverse needs for you to learn about. Big and small, we groom them all.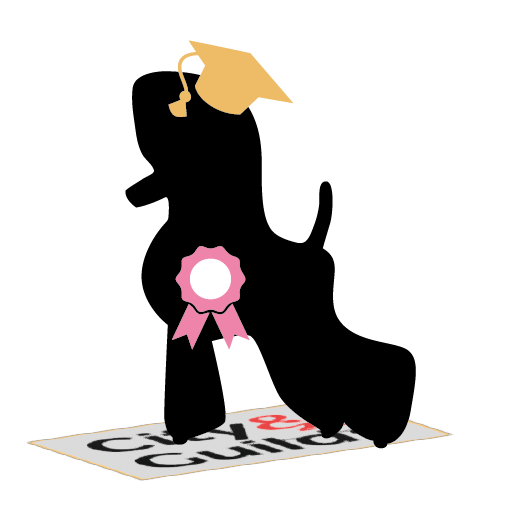 We will teach you how to groom professionally and to meet owner specifications, handle all kinds of pet personalities and temperaments, and make clear judgement calls on matted or unusual subjects, so when you leave, you can do the same.
We normally only have 5 or 6 students grooming in each session, so you will have complete guidance and support in small classes. You can even come to us to learn to groom your own pet!
We offer flexible training for adults, so you can choose which days you come to train. We are open from Tuesdays to Saturdays for grooming lessons. You can come 1 to 5 days per week. You choose to suit your lifestyle. These days will be identified, agreed upon and booked on the application. Call us to discuss your individual requirements.
Our students usually leave to set up their own dog grooming businesses or go straight into employment, and you can do the same! We can assist you regardless of your practical or academic level.
Look through the website and give us a call or send us an email to discuss your individual requirements.
Our grooming courses are designed for individuals, and we can tailor the course to suit you.
We welcome students from across the UK, Ireland, and countries from across the world, at all levels.
We work to fulfil your individual requirements and, as such, present the course content as a guide. We also reserve the right to change course content as necessary.
Students are required to attend from 9:00 am to 4:30 pm for all courses. However, we can be flexible under prior arrangements.
Success is in your hands!
As well as teaching you the techniques to give a better hairstyle than your competitors, we will be showing you how to reach out to dog owners and telling you about special marketing techniques that will drive people to your salon.
Home-based business: Dog grooming is very flexible. For example, you can start with a home-based business, working from your garage or spare room. That means lower costs — so it's a great way to start.
Alternatively, you can set up a mobile grooming business in a van or in your own home. This is an excellent way to meet the needs of customers at a low cost. There are many senior citizens who can't get out of their homes and whose pets desperately need grooming.
You can drive to their house, set up in the driveway or inside, and have their pet looking its best in less than an hour. That way, you provide a very convenient service.
Your own store: But if you've always dreamed of having a storefront at the local shopping centre, you can do that as well. In this course, you'll learn everything you need to know about opening your doors for business, fixing appointments, and creating a safe environment.
Who will be teaching me?
The tutors at Absolutely Animals have been grooming for over thirty years and are extremely well qualified and decorated. As well as teaching you the everyday work of grooming, they will also be sharing with you their experiences and skills that you won't find anywhere else, and you will learn a variety of tricks and secrets, all of which you'll find only in our courses. This will give you an excellent learning experience.
You can find out more about our staff by clicking on the link below.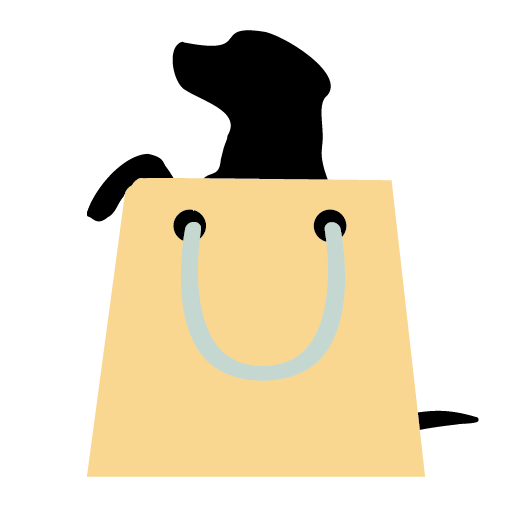 City and Guilds Qualifications
What are the benefits of being a dog groomer?
Being a dog groomer can be demanding at times, but unlike many jobs, you will have a lot of flexibility and a sense of accomplishment every day when you go home.
Despite all of the hard and physical work, there are great moments as well, and nothing is nicer than turning a shaggy dog into a handsome hound and having a very happy dog give you a sloppy kiss while you've finished grooming.
Every day is different—and there's never a dull moment.
You are your own boss, so you don't have to go clock in with a boss each day. Even if you choose to work in a business with other groomers, you're often free to come and go as you please because you're still in control of your own schedule. Other dog groomers know the type of flexibility that you're looking for in this type of job, and they respect that.
You also have the ability to set your own pay and holidays. You set your own prices and rates for each type of pet and the skill of work carried out.
You can take on as many pets as you want in a day, depending on how much money you want to make. We advocate doing fewer dogs for more pay and creating the environment to make the grooming a nice experience for all concerned.
The dog grooming business can be your business, so the more you choose to work, the more you earn. You can work as many or as few hours as you wish; it's up to you. You can work 9-5 if you want, or in the evenings and weekends, and you'll never have to worry about it being boring.
Either way, you're in control of your schedule and your salary, and there's nothing better than that. And you definitely don't have to worry about meeting a boss's expectations because you're in control of your destiny.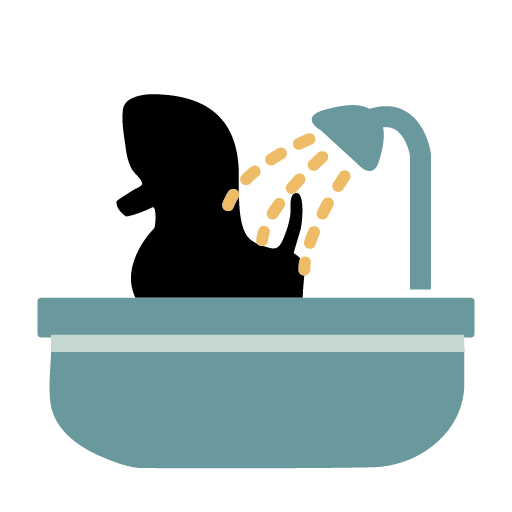 City and Guilds Approved Centre
We are a City and Guilds approved centre.
Our courses are fully accredited by City and Guilds and we have undertaken to conform to their terms: a code of practise designed to guarantee the highest standards of customer care and animal welfare.
You could be wasting your money by not going to an accredited and award-winning school!
In our courses, we are teaching you the competence and skills of level 2/3 in the National Learning Framework, and on completing our course, you can receive the national award level 2 or level 3 in dog grooming, which serves as the first and second steps in the national qualification framework in dog grooming.
You'll get to watch professionals at work, and the handling experience is second to none. We only advocate the kind treatment of dogs here. We invite you to come and see how we do it and to meet the students already present on the course.
money-saving
We realise this is a costly investment and have taken every opportunity to keep the costs down for our training and maximise the learning on our intensive courses. This is also reflected in the unique starter pack, which is of good quality and has been carefully put together for you, so that you may safely and productively groom dogs efficiently.
It's time to get started.
Having read this far, you've got what it takes—motivation. Now all you have to do is get started. Fill out the application form of interest now, because this is where the adventure and rewards begin.
You've waited long enough—why wait any longer? Go ahead and do something for yourself, to make your dreams a reality. It's easy to start: I've done it and have never looked back.
1. Call us to check the availability calendar for dates to suit yourself, fill out the application form, and you will be contacted to discuss any requirements and the application process.
2. Or you can give us a call directly so we can discuss this personally on 020-8857-2888.
We look forward to helping you succeed.
With best wishes
Heidi Anderton, LCGI, ICMG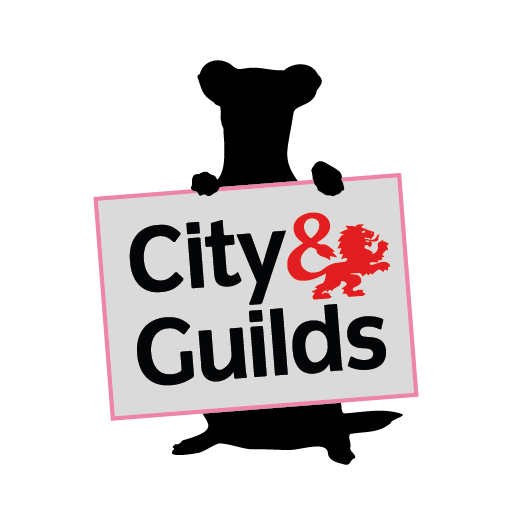 Why choose this dog grooming course?
Our pet grooming course is designed to take you through the process of dog grooming step-by-step.
We'll teach you all you need to know about the skills required, time and money-saving techniques, setting up shop, creating a safe environment for you and the pets, and how to manage your business to make money.
It's structured to give you the right information that you need and to provide you with comprehensive documentation.
We are an approved City and Guilds Centre, so we are continually standardised with an awarding body and the qualifications we offer are included in the national qualification framework. This means the levels are on par with other professional industries.
You'll have a qualified and decorated professional dog groomer as your tutor, so you'll be sitting beside a proven expert all through the course. as well as qualified mentors who are also on hand to support when needed.
There are assignments in the pet grooming course for you to complete. You will also obtain our own manual on pet grooming that you just can't find anywhere else. Plus, you have unlimited access to our library, as well as the other resources we offer.
You'll also get assignments that will be confidentially marked by your assessor. They ensure that you're on the right track to succeeding.
And on completing the course, you not only receive your own certificate but can also obtain a nationally recognised certification in the form of the City and Guilds accreditation.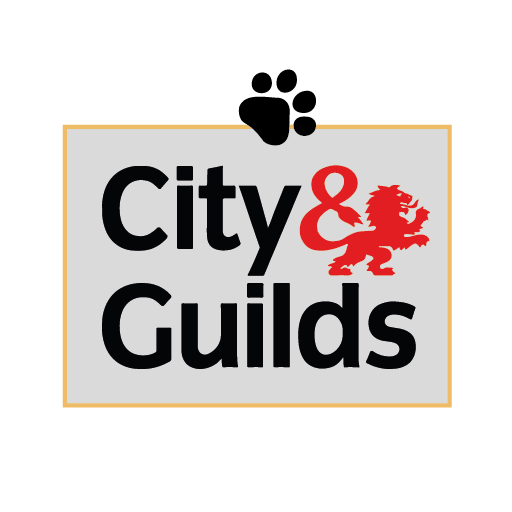 Cat Grooming Courses
Our cat grooming courses are becoming increasingly popular. You can follow the links if you want to know more about them!
iPet Cat Grooming Qualifications

Earn after you learn
We have salons that will take our learners into employment, working alongside their fabulous teams.
These opportunities are open to successful learners from 'Absolutely Animals' Grooming School.
You must have completed an 'Absolutely Animals' course.
• Get paid work in a salon while you practise your craft.
• Put what you've learned into practise with a professional team.
• Meet fantastic teams and make industry contacts.
• Opportunities for advancement and experience, with the possibility of a permanent position
Successful candidates must have an open, happy, and positive outlook on learning and be totally driven towards a hard-working career in dog grooming.
open to candidates at all levels of their learning, but must ultimately be looking to complete the level 3 City and Guilds course.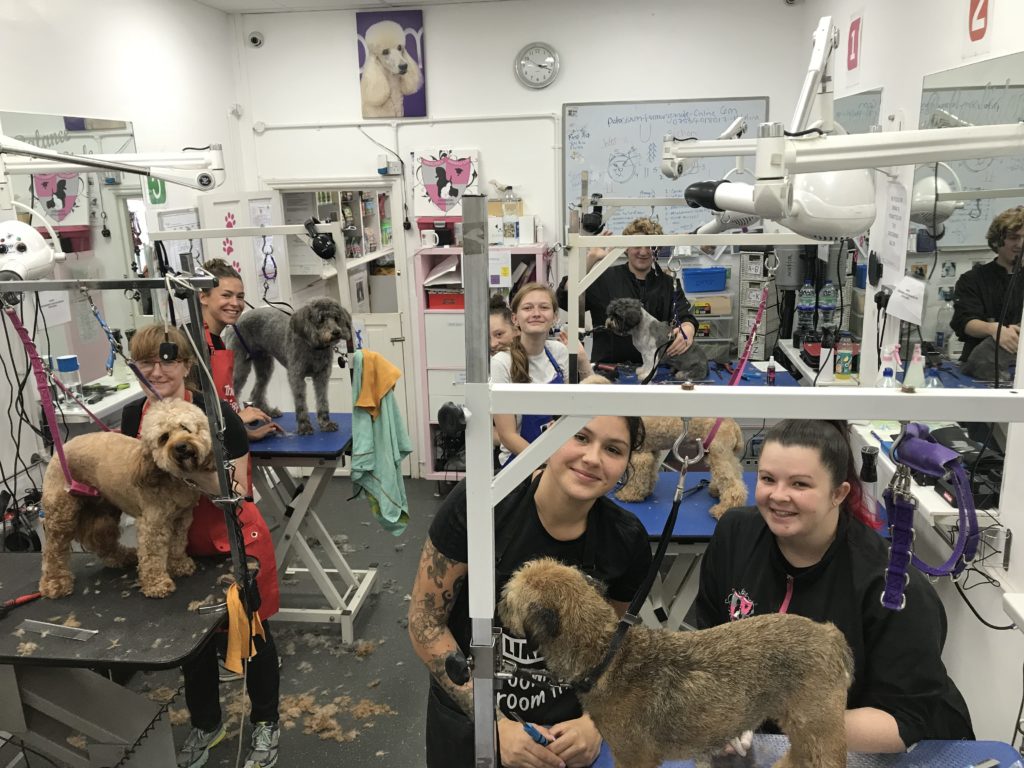 FAQ
Why should I become a dog groomer?
Training to do what you love!
If you've always been an animal lover, then becoming a dog groomer might be the next step for you to take.
In these courses, you'll learn everything you need to become a professional dog groomer. You'll learn how to groom different breeds, how to find customers, and how to set up a salon (whether at home, in a van, in a shop, or during home visits).
Is there a demand for pet groomers?
No matter what area you live in, people need their pets kept clean. Some owners don't have the time or inclination to see to their pet's coat requirements and so are willing to pay for this service.
The dog groomer is there to do a job that can be done by only a select few, and you can become one of them.
Isn't there too much competition?
When you drive around your local area, you'll see a few people who are already in the dog grooming business. But have you ever called and tried to get a pet into one of these busy places?
It's often impossible without making an appointment a week in advance! There are simply not enough dog groomers to go around… Many more owners are becoming aware of the need to have their dog groomed and the benefits it brings.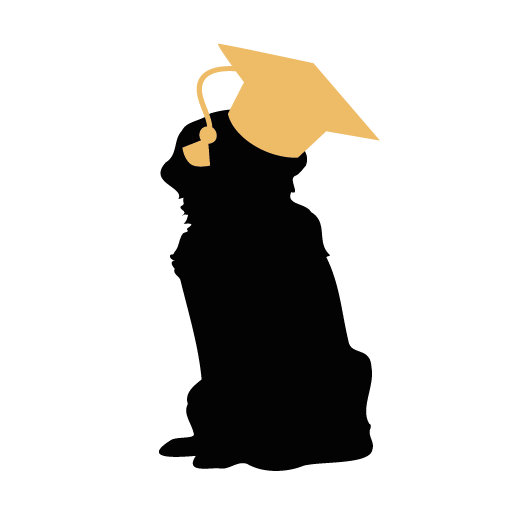 Accommodation
We have put together a list of local accommodations to help you prepare for your course.
What our Customers say...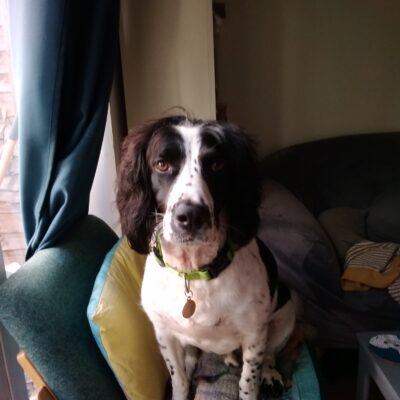 Kate and Charlie Review
---
Just wanted to say how smart Charlie looks after his wash and cut. He obviously enjoyed it and is now knot free and sleeping on the sofa!! We will be back for more pampering many thanks to your team. -  Kate and Charlie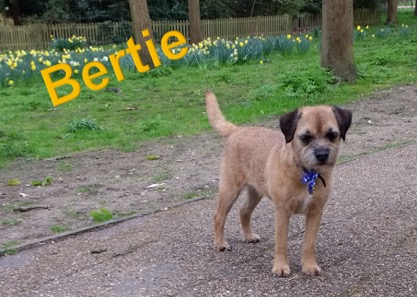 Vanessa Mitchell and Bertie
---
"Met a lady walking her well-groomed Border Terrier in Peckham park, who recommended Absolutely Animals, the groomers she had used for 11 years. My Border Terrier, Bertie Woofster came home completely relaxed and happy, having been gently and carefully treated. He has been much admired in the last two days!  Everyone in the family says what a neat job,  I am delighted with the competent and considerate treatment he received" Bertie before his groom with us.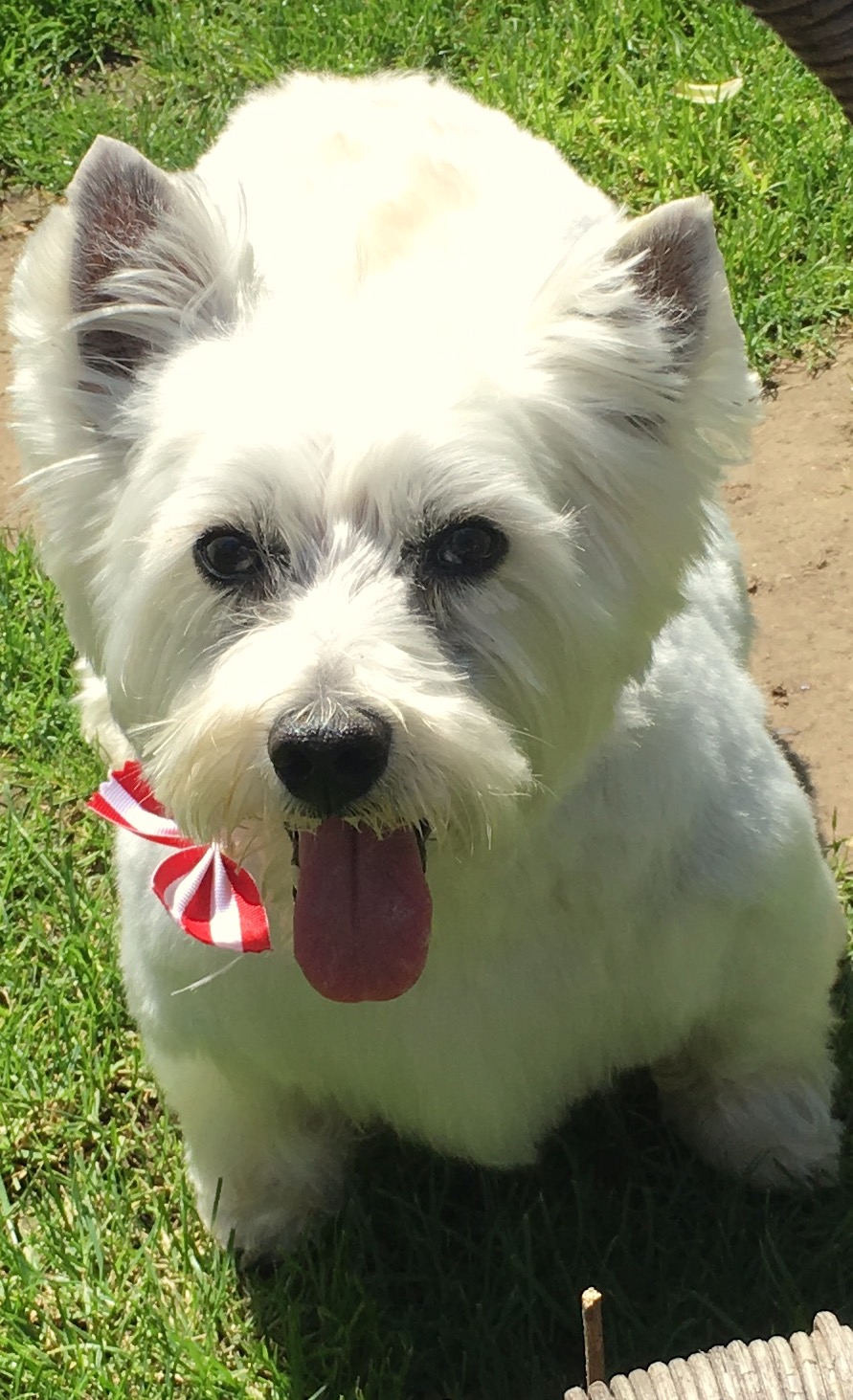 Mr Snow & Bubbles Story 2016
---
"Hello, my name is Mr Snow and I have been coming to Absolutely Animals since 2013. Everyone is so nice and gentle although my favourite person is Christine. Whilst I look as if butter wouldn't melt in my mouth, I can be very naughty and it is Christine who keeps me in check. She also gives me a WICKED Westie Cut which makes me look ever so handsome as the photos show! I am also very full of myself! My Mummy tells all my Woofie Friends (& being so good looking I naturally have many…) to come to Absolutely Animals for a fabulous wash, cut and blow dry with extra cuddles included. A year ago my Mummy rescued another West Highland White. Needless to say I was instrumental in the decision making process! Her name is Bubbles (it's my mummy's favourite drink but I probably shouldn't have mentioned that) and she is the cutest thing ever. When she first came to Absolutely Animals she was frightened and nervous. Everything was new to her but with gentle coaxing, loads o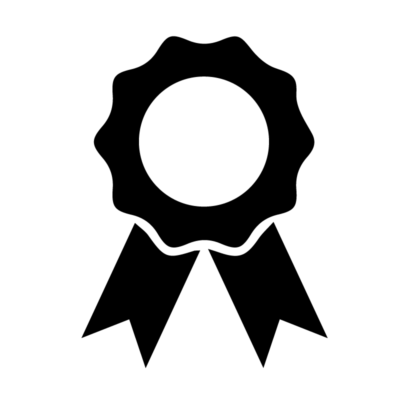 C Godfrey MA, B Vet Med, MRCVS 06/09/05
---
"This letter certifies that I have known Ms Anderton and her family for many years and have always found her to be a thoroughly reliable and very capable person. She most certainly has the ability and sense needed for setting up her own business and exercising her very useful skills as a groomer. Her work is always first class, and her ability at handling difficult animals is not short of remarkable. I am sure she will well repay any effort put into training her in business methods, and I am happy to be recommending her to my bankers as a sound prospect for them to back. On the practical side, we are able at this surgery to provide a good number of recommendations of her skill to our own clients, safe in the knowledge that they will be pleased with her work. This clinic will give her all the backing we can, and she will surely find her work well appreciated by others as well."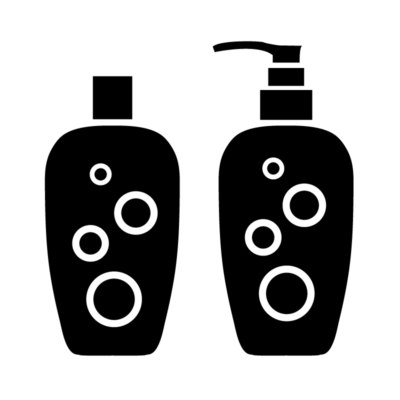 Dennis Hawkins
---
"Thank you all at the salon for the wonderful grooming job you have done on our cat, Murphy. I was initially a bit nervous about bringing her to you but she came home completely relaxed and looking great! I would thoroughly recommend you to any nervous cat owners! Murphy will definitely be back."

Mrs Bryant
---
"My cat is a Big Boy, and very long coated. Having had problems grooming him myself , he lashes out and scratching, hissing, growling. I rang my local pet shop and was recommended to a grooming salon. I rang Absolutely Animals and made a booking, when i got there I felt very shaky as I wondered how the staff were going to manage him. But I need not have worried as the staff were wonderful, reassuring my cat all the time by talking to him. He was bathed, blow dried and combed. I am so glad I had him groomed at Absolutely Animals I will definitely take him back and would recommend Absolutely Animals to other people in need of cat grooming."

Annie (from Beckenham, Kent)
---
" On Sunday 18th November 2012, I took my  Persian/Chinchilla cat Chloe to be groomed at Absolutely Animals.  I had previously had a bad experience somewhere else, so I was apprehensive.  But that was soon put to rest by Heidi and her daughter.  They were so friendly and professional I felt in no way worried about leaving her, my daughter and I were welcomed into the back to watch three other long haired cats being shampooed, and  I was told she would be having the same thing.  Strangely enough the other cats looked so relaxed through the whole process….this made me a little concerned at how my grumpy 13yr old would be having this done. On collection of Chloe we were shown a video clip of how well she did, and looking at her she looked beautifully groomed, relaxed and happy.  And when we got home, I have to say I have never seen her so content. I would highly recommend Absolutely Animals to anyone wanting a highly professional, friendly place to get their pet groomed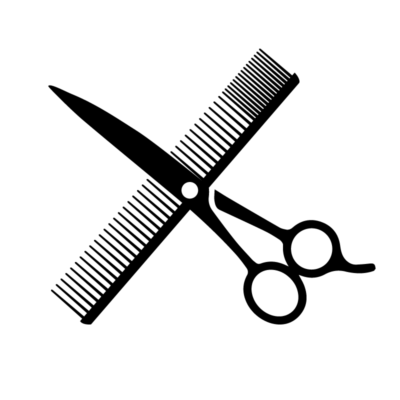 Sally Pallaris from Beckenham, Kent
---
"I'm Over the Moon!! I've been searching for a professional cat grooming service for a long time, they are far and few between when it comes to grooming Persians. In the past Bubble has come home stressed, needless to say the groomer came out worse. My experience with Absolutely Animals from start to finish has been an absolute pleasure. Not only were they polite and treated my cat with the respect and delicacy she needed, they educated me into why and how I can reduce knotting. When I arrived to collect Bubble I was expecting her to have had to be shaved all over, however she was looking so beautiful and chilled. I was over the moon, but the icing on the cake was Absolutely Animals showed me a video of how she was handled, she was loving it, they're techniques are second to none, they've just gained a long term customer every 8 weeks…..thank you!"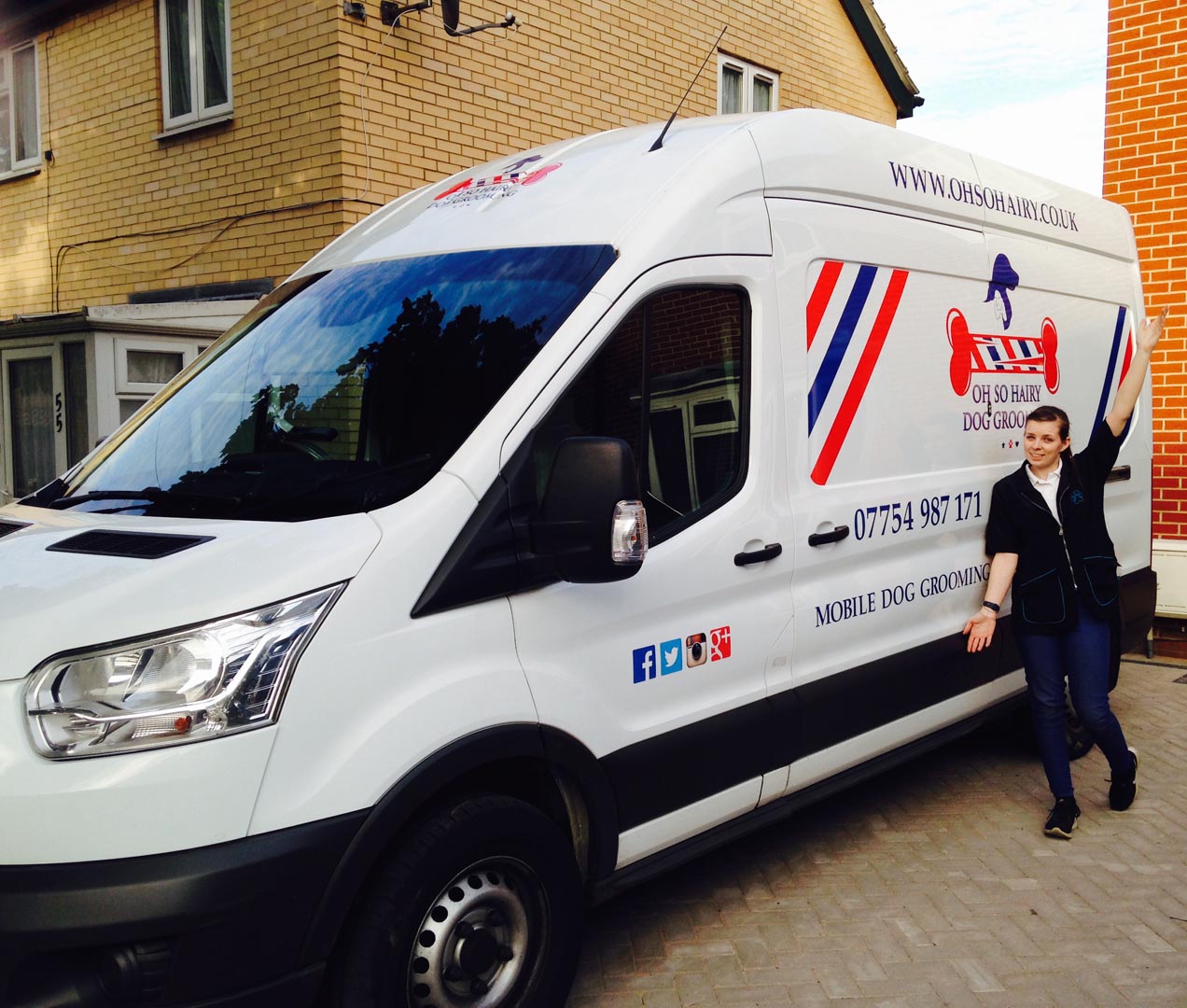 Oh So Hairy Dog Grooming
---
"Thank you so much to everyone at Absolutely Animals – Heidi and Christine are amazing tutors. I highly recommend training at Absolutely Animals. The knowledge that I have learnt from them has helped me to start my own Dog Grooming Business."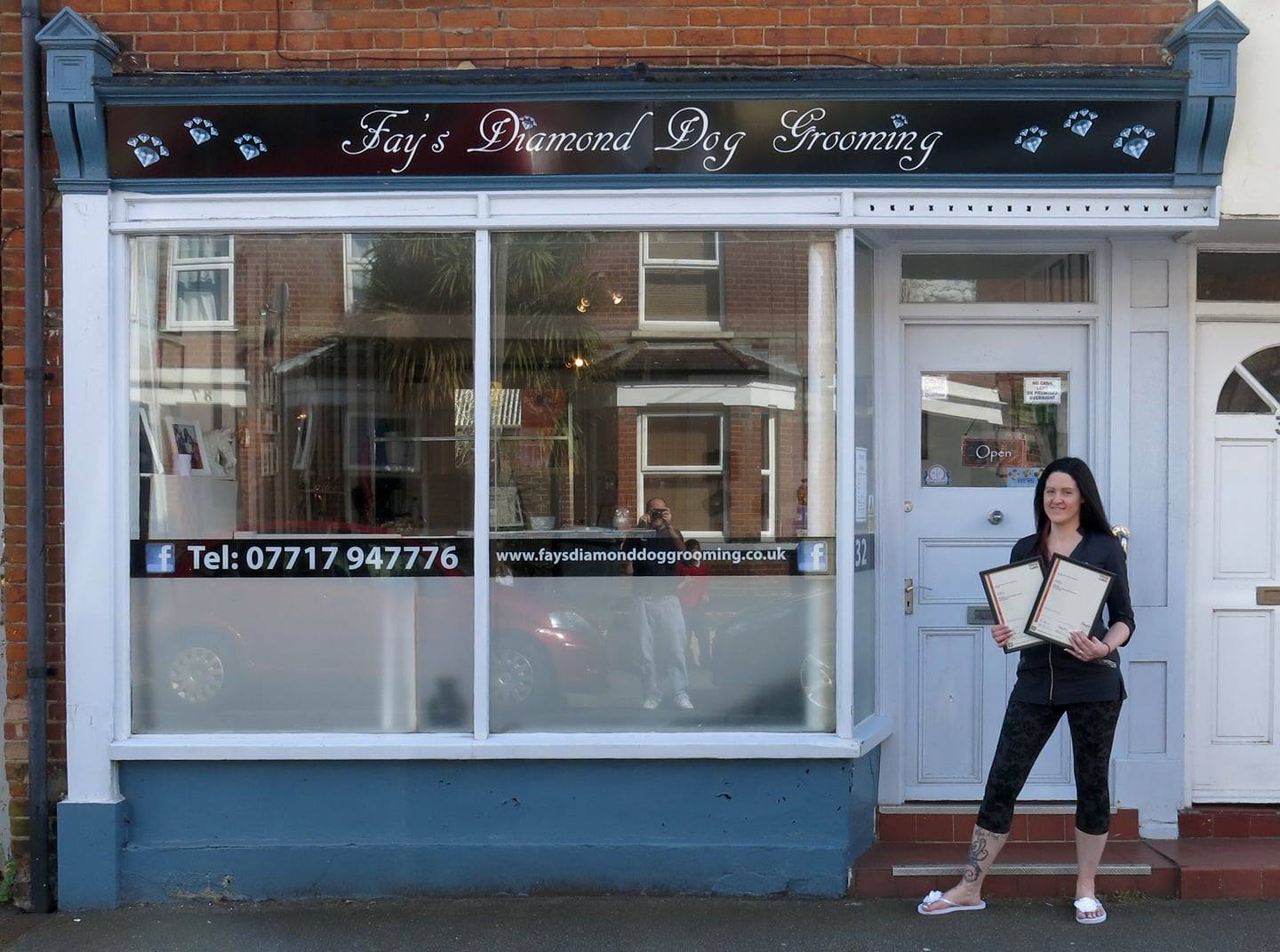 Fay's Diamond Dog Grooming
---
"I am so pleased I turned to Absolutely Animals to become qualified. My experience completing not only my Level 3 intro but also Level 3 Diploma with this school has been so fulfilling and rewarding. Absolutely Animals has such a friendly welcoming atmosphere which instantly puts you at ease. Heidi and Christine guided me through the entire process all the while making me feel supported."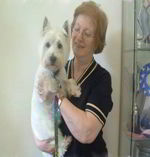 Bette with Barney
---
"I have been coming to Heidi since 1997, which is the best recommendation I can give. I am very fussy about my groomer and Heidi is the best! My dogs always 'chomp at the bit' to get into the shop. The students are friendly, polite, well turned out and are lucky to be taught by true professionals."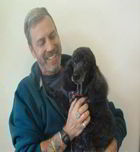 Mike with Bessie
---
"I have been coming to Absolutely Animals for 6 years and know Bessie is well treated, loved and always returns with a top quality haircut. I wouldn't dream of taking my dog anywhere else. I am also happy with students learning on my dog as I know they are well supervised and instructed."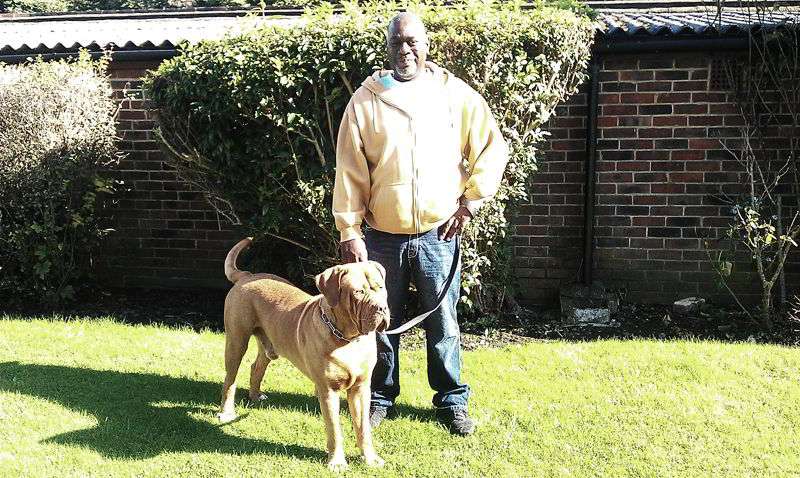 David with Zeus
---
"I found Absolutely Animals as I passed by and went in to inquire as my dog, Zeus - a dog de Bordeux, had contracted a fungal infection. The staff were knowledgeable, helpful and wonderful in assisting me. Thank you Absolutely Animals!"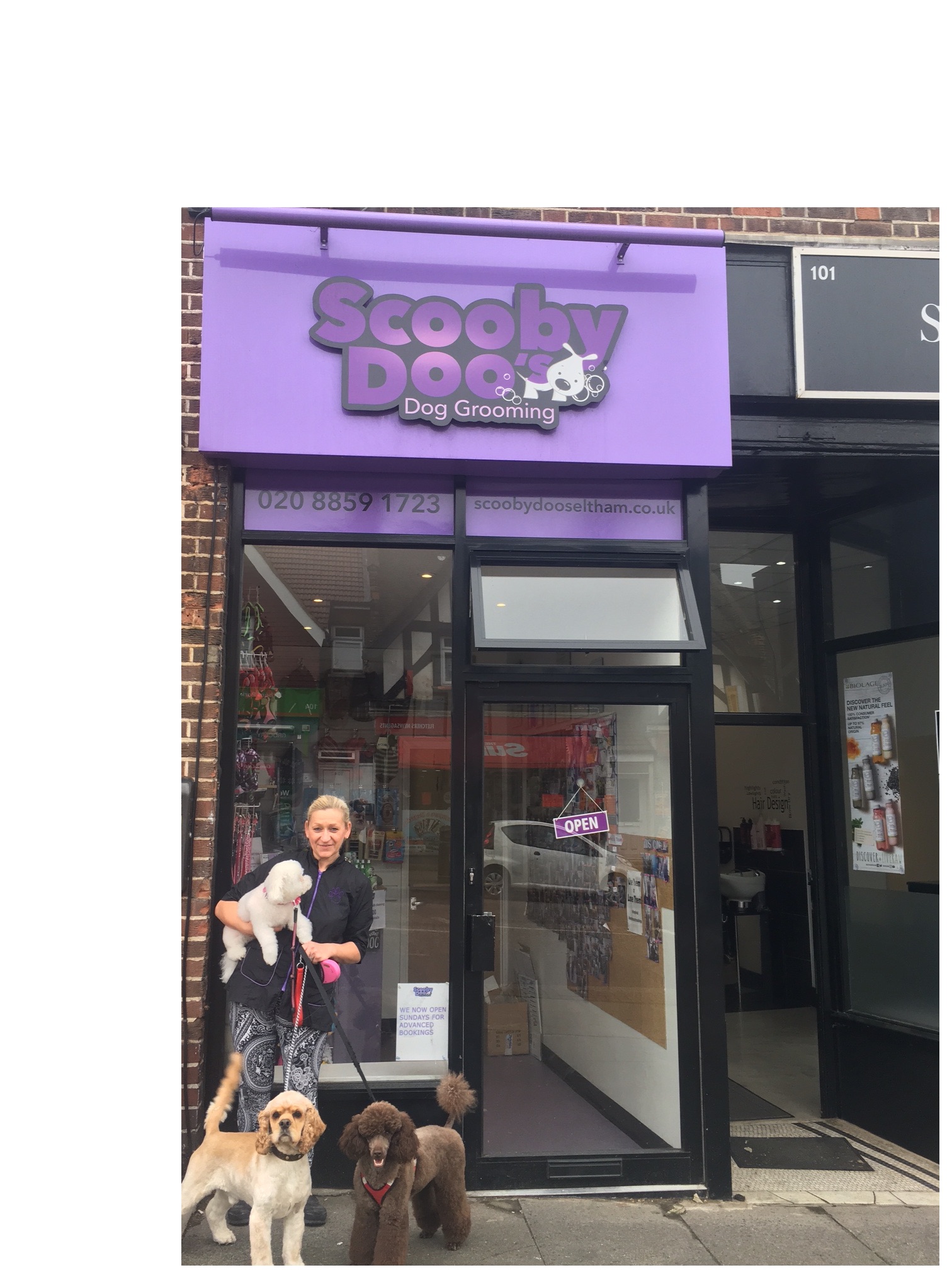 Dog Groomer Success Story - Scooby Doos Dog Grooming
---
"I'm the owner of Scooby Doos in Eltham and I have now been grooming dogs almost three years. Prior to that, I was a retail area manager, working 24/7 and always stressed. This all changed when my husband came up with an for dog grooming with shorter waiting times. At first, I thought he was joking, but it really developed from there. Straight away I started to look for premises and a training school – that's when the fun started. I was overjoyed to find somewhere so close! I started my journey at Absolutely Animals, signing up for the Platinum Dog Grooming Course. On my first day I thought I would never get it, but everyone was so friendly and helpful that by the end of my course, I felt so motivated and confident that I just knew it was the right career for me. I completed my City and Guilds Introduction into Dog Grooming; the hands-on experience together with the written coursework was all well-supported by the Absolutely Animals team. Their experience, knowledge, an