Heidi has been breeding high-quality Parti Poodles for many years.
Breed standard-sized parti-coloured and solid-coloured poodles for the love of the breed. I don't breed very often and do so with the utmost care to produce healthy puppies with great conformations and temperaments.
All my dogs are members of the family, and the puppies are born and raised in my loving home environment. Past puppies have been such a pleasure to raise.
They integrated easily into their new homes and brought much joy to their new owners.
All parents have eye and hip tests, and every generation has successful DNA tests.
All my puppies are wormed, health tested and registered with the UK Kennel Club as well as with the Parti Poodle Club.
Please see below for some information on the history of the Parti Poodles and meet the girls.
If you would like one of my puppies, please contact me via email at info@absolutelyanimals.biz.
Our next litter is TBC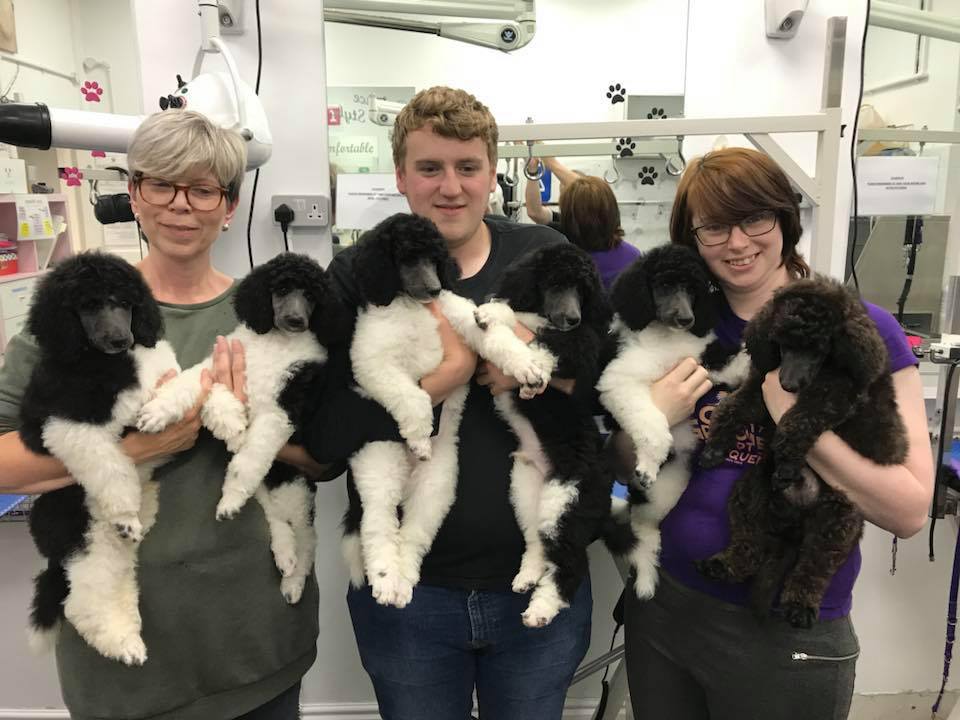 Heidi with Prada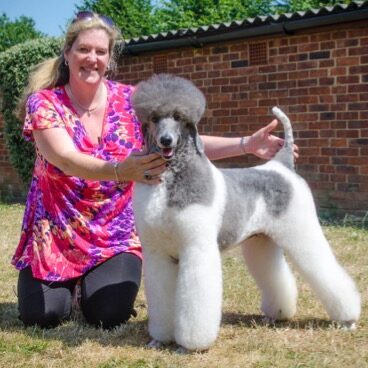 The Kennel Club promotes
good breeding practice.
My Puppies come with:
UK Kennel Club Registered
UK Parti Poodle Club Registered (where applicable)
3 Generation Pedigree,
5 weeks KC Insurance
Veterinary Health Check
Microchipped
1st vaccination
An Extensive Puppy Pack, which includes information on:
Socialisation, exercise, training, feeding grooming, worming,
immunisation and breed information.
About Multi-Coloured Poodles
The Poodle has a wide variety of colouring, including white, black, brown, blue, grey, silver, cafe au lait, silver beige, cream, apricot, and red, and patterns such as parti, abstract, sable, phantom, and brindle.
The UK KC recognises Poodles in either solid-coloured or multi-coloured coats, however, multi-colours are classed as highly undesirable for the show ring. Not sure why? We love their striking look and appeal.
Parti-coloured poodles are recognised in poodle history as the original colouring of the poodle. A parti poodle has solid-coloured patches over a white coat. The coat will usually be white and coloured in equal amounts, though it can vary with a larger percentage of white.
Registries prefer that parti poodles have the same points as their correlating solid-coloured descendants. Brown and white parti poodles have liver-coloured noses, eye rims and lips, dark or self-coloured toenails and amber eyes. This is also permitted, but not preferred, in apricot and white parti poodles.
Black/white, blue/white, and silver/white Poodles have black noses, eye rims and lips, black or self-coloured toenails and very dark eyes. When the dog has markings that resemble those of a tuxedo, it is called a "tuxedo" poodle. The upper coat is solid: head, back, tail; and the lower coat is white: neck, chest, abdomen, and legs, making up usually 40% or more of the coat.
Phantom poodles have the colouring of a Doberman Pinscher, with a lighter colour appearing on their "eyebrows", muzzle and throat, legs and feet and below their tail. Like Dobermans, phantom poodles have either a black or brown main coat with tan (usually apricot or red) lighter colourings around the eyebrows, muzzle, throat, legs, feet, and below their tail.
Generation History of Girls
Prada is the start of my doggie family line.
She is a first litter parti pup in the UK and is the daughter of 2 imported dogs from professional breeders abroad. Ettie is Prada's daughter.
Meet the Current Girls
Kendra is the daughter of Ettie who she continues to live with and is the youngest dog of the family.
Tiffany is the newest addition to the family from Spain, living with Prada comfortably.