The staff at Absolutely Animals are keen dog and cat lovers, they share in the same passion for ensuring the happiness and welfare of your pet and their coat care.
All the staff at Absolutely Animals update their knowledge and further their skills by improving qualifications and attending seminars both in the UK and abroad. The most up to date techniques and equipment is used on your pets ensuring they have a safe and content time during their grooming session.
The staff at Absolutely Animals are eagerly waiting to meet you and your pet.
Heidi Anderton - Principal, Head Groomer, Tutor
Heidi has been around dogs all her life and has two pet dogs at the moment, one poodles and a Bichon Frise.
Heidi has operated Absolutely Animals since she founded it in 1995
Heidi believes that continual training and skills gained in seminars, examinations, demonstrations and competitions are important in delivering a quality service to Absolutely Animals customers as well as maintaining modern styles.
Heidi invests in the most up to date equipment, techniques and skills to make the grooming experience an enjoyable one for you and your pet.
Your pets enjoyment and experience of their grooming time is paramount to all the staff at Absolutely Animals.
Heidi also leads the team in the cat grooming services adapting the options to suit all our feline friends and their owners
Heidi is a highly qualified and multiple award-winning pet groomer both in the UK and abroad, including:
City and Guilds Qualified level 3 in dog grooming 1995
Higher Diploma in dog grooming 2005
Member of Guild of Master Groomers 2005 – 2014
LCGI – Level 4 City and Guilds 2007
Best in Show – British Groomer of the Year 2004
Groom Team England Member 2009-2011
Best in Show – Irish Professional grooming show 2014
International Certified Master Groomer – 2017
International Grooming Judge
Christine Anderton - Head Groomer and Tutor
Christine has been involved in the salon from the age of 3 and has an exceptional talent for one so young. She has a special affinity for animals and is first class in the art of dog and cat grooming.
Christine has her full City and Guilds level 3 in Dog Grooming and is also fully qualified in teaching and assessing.
Christine is an award-winning groomer:
Beginner Class – Toy Poodle First Place – Dutch United Groomers, Netherlands 2010
Young Kennel Club Groomer of the Year – Crufts 2011
Experienced Class – Terrier First Place – Groomer of the Year – 2011
Experienced Class – Poodle First Place – Mastergroom – 2015
Champion Class – Poodle third place – mastergroom – 2016
Champion Class – Poodle second place – Grooming Show – 2017
British Isles Grooming Association – Pet Stylist of the Year – 2018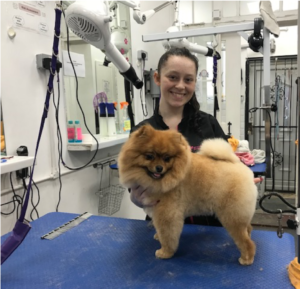 Nicole Whittle - Groomer and Support worker
Nicole is at the end of her 2 year work experience with Absolutely Animals and is a keen animal lover.
Showing a special affinity with dogs and cats you will see her attend to all their grooming needs.
Nicole has already passed her level 2 in dog grooming and is preparing to take her level 3 Assessments in dog grooming.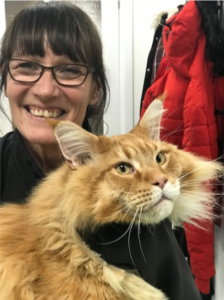 Kay Martin - Groomer and Support Worker
Kay has worked with Absolutely Animals for over two years now and is an important part of the team.
You may often hear from Kay as she sees to a lot of our customer care.
Kay has a Shih-tzu of her own, Daisy, who she dotes on.
Having passed her level 3 Introductory, Kay is working to complete her level 3 Diploma in Dog Grooming.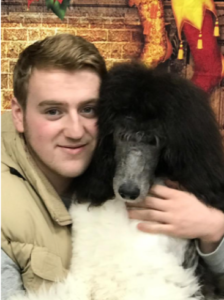 Callum Anderton - Trainee Groomer
Callum is the newest Anderton to get involved in the family grooming business.
Callum has completed his level 2 in dog grooming and is now working towards his level 3.
Eddie is the Grandson of Heidi's poodle Prada. You may see them at the salon on your visit.