Both dogs and cats are immensely adored by the Absolutely Animals staff. They are similarly dedicated about ensuring your pet's welfare, happiness, and care.
All of the Absolutely Animals staff members stay up to date on the most recent information and hone their skills by increasing their qualifications and participating in seminars in the UK and overseas. The most up-to-date equipment and techniques are used to groom your pets, ensuring their safety and comfort throughout.
The crew at Absolutely Animals is looking forward to meeting you and your pet.
The team is listed below.
Heidi Anderton -Principal, Head Groomer, Tutor
Heidi with Tiffany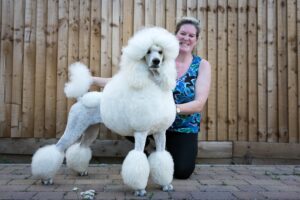 Previously on Groom Team England, Groomer of the Year and many best in show achievements, Heidi has been around dogs all her life. With a long history of dogs, her current is Prada and Tiffany.
Heidi has operated Absolutely Animals since she launched it in 1995.
Heidi believes that continual training and skills gained in seminars, examinations, demonstrations, and competitions are important in delivering a quality service to Absolutely Animals customers as well as maintaining modern styles.
For the benefit of both you and your pet, Heidi makes investments in the most modern tools, methods, and abilities.
At Absolutely Animals, everyone on staff is committed to making sure your pets enjoy and have a positive grooming experience.
In addition to leading the team in teaching and pet grooming, Heidi develops cutting-edge strategies and efficient means of providing the best service possible.
In the UK and worldwide, Heidi has won numerous awards as a highly qualified and accomplished pet groomer, including:
City and Guilds Qualified level 3 in dog grooming 1995
Higher Diploma in dog grooming 2005
Member of Guild of Master Groomers 2005 – 2014
LCGI – Level 4 City and Guilds 2007
Best in Show – British Groomer of the Year 2004
Groom Team England Member 2009-2011
Best in Show – Irish Professional grooming show 2014
International Certified Master Groomer – 2017
International Grooming Judge
Heidi has the highest accolades in the grooming industry and is a founding member of the British Isles Grooming Association. She is also a qualified dog and cat groomer, teacher, assessor, and internal quality assurance. Heidi is also an official International Certified Master Groomer.
Personal Statement
Hello, I am Heidi and I founded Absolutely Animals in 1995. I have been grooming for 30 years and have many achievements within the industry.
We continue our own development and invest in our school to deliver an individual learning plan to our students. We teach current techniques and use the most up-to-date equipment. We offer the well-known City and Guilds qualifications as part of our courses and the iPet Network. We will also teach you the tricks of the trade that aren't covered by the qualifications but come from years of experience.
We pride ourselves on offering a friendly and relaxing place to learn, which inspires and builds confidence in all our learners, and we welcome you to be part of that.
We support our learners every step of the way throughout their course and throughout their new careers or hobby.
You may find me in the salon doing checks and making sure everything is going well. I also just pop in sometimes to say hello. 😊
Spiral Trim Tiffany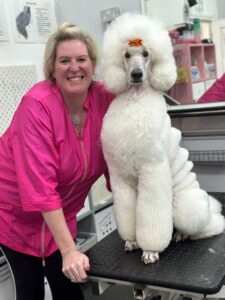 Groom Team England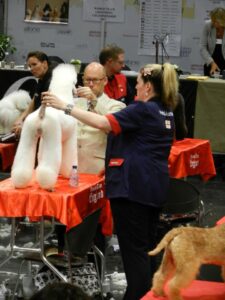 lCGI
Christine Anderton - Head Groomer and Tutor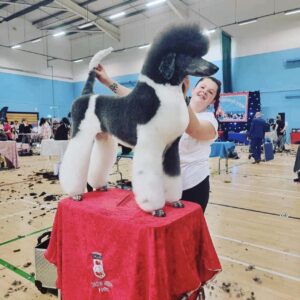 Since she was three years old, Christine has worked at a salon, and since 2010, she has participated in competitions. She has a special passion for animals and is an expert at grooming dogs and cats. Christine has been a part of Absolutely Animals almost since the beginning.
Christine has demonstrated her strength in the field for many years, rising through the ranks and tournaments to become a member of Groom Team England. She makes us so proud.
She currently serves as Absolutely Animals' manager, head tutor, and groomer. Etti, Kendra, and Aria are three standard poodles that Christine owns.
In terms of accomplishments, Christine is completely qualified to teach and assess, in addition to having her full City & Guilds level 3 in dog grooming. Christine is also qualified to teach and assess the dog walking course.
Christine is a multi-international award-winning groomer:
Beginner Class – Toy Poodle First Place – Dutch United Groomers, Netherlands 2010
Young Kennel Club Groomer of the Year – Crufts 2011
Experienced Class – Terrier First Place – Groomer of the Year – 2011
Experienced Class – Poodle First Place – Mastergroom – 2015
Champion Class – Poodle 3rd place – Mastergroom – 2016
Dog Walking Qualification – Both completed and can teach and assess this qualification
Champion Class – Poodle 2nd place – The Grooming Show – 2017
Pet Stylist of the Year – British Isles Grooming Association 2018
Champion Class – Poodle 3rd Place – Groomania International Show in Belgium
Awarded membership of Groom Team England in 2023
Great British Grooming Show 2023 – First class in champion class
Great British Grooming Show 2023 – Best in Show
Personal Statement
I have been working at Absolutely Animals since I was very young. I love dog grooming and making the dogs feel fabulous.
I am a multi-international award-winning groomer. I won the Young Kennel Club Groomer of the Year in 2011 and have gone on to take first place in several poodle and terrier classes. I also won 1st place in a competition in Holland and 3rd in the Champion class in Belgium at Groomania.
I love teaching as it is a great opportunity to be able to pass on my skills to others and I enjoy seeing the learners accomplish their skills to start a business. It is wonderful to be able to help make changes in people's lives.
I take my role very seriously and am level 3 City and Guilds qualified in dog grooming, as well as holding a teaching and assessing award.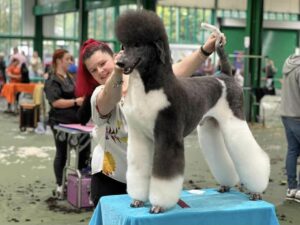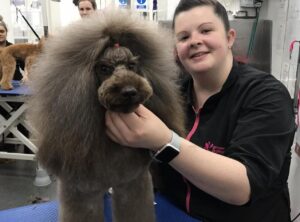 Nicole Whittle - Groomer and Tutor
Nicole has been employed by Absolutely Animals for six years and is an animal lover.
She will take care of all of their grooming requirements because she has a special interest for cats and dogs.
Nicole has already finished the level 2 and level 3 dog grooming courses. Nicole has a level three teaching certification as well.
Nicole is always willing to help, and she has an upbeat attitude and a constant smile.
Personal Statement
I have been working at Absolutely Animals for over 6 years. I love spending time with the dogs and making them look pretty and healthy. It's great to have such a fun job and be part of a great team teaching learners from across the world dog grooming for a living.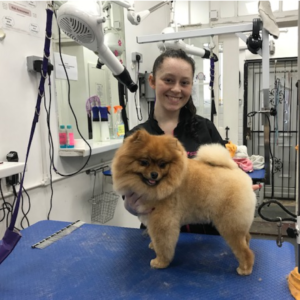 Kay Martin - Groomer and Support Worker
Since she has been employed by Absolutely Animals for more than seven years, Kay is a crucial member of our team.
Kay also enjoys cats and helps to groom them and is commonly found in the cat shop.
Since Kay cares about many of our customers and students, you might hear from her frequently.
Daisy and Pandora the Bichon are Kay's two pet dogs.
Kay holds a level 3 teaching award in addition to having passed her level 3 introduction and level 3 dog grooming exams.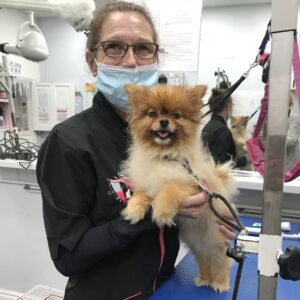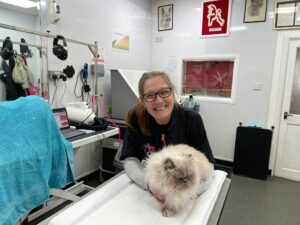 Callum Anderton - Groomer and Tutor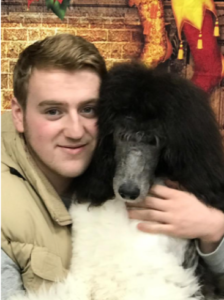 Callum has finished dog grooming levels 2 and 3. He is one of our tutors and has a teaching qualification at the level 3 level.
On May 21, 2023, Callum won the Poodle Open class competition.
Eddie is the grandson of Callum's dog and Heidi's pet poodle, Prada. On your visit, you may see Eddie at the salon.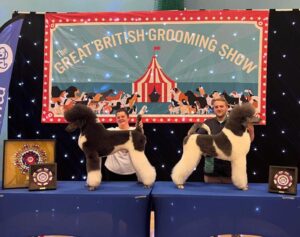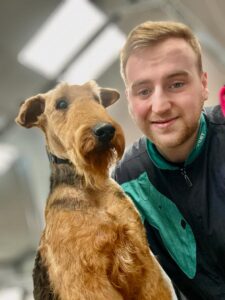 Perry Anderton - Administrator
Perry is the fourth Anderton to join the crew. Perry has never owned a dog or a cat, despite growing up around them frequently. Perry often looks after his family's dogs when they are away.
Having attended tournaments and has a general idea of how they operate, Perry is knowledgable despite not being a dog groomer.
Perry is a skilled administrator and has accomplishments in business studies. Additionally, he is very knowledgeable about computers and technology and has a strong interest in both. Prepping computers for usage or solving any problems that arise.
You might hear back from him if your query is about the website, refunds, or technology.
As he works in the background to make the business background and website operational, Perry is seen very rarely in the salon floor, but may be seen occasionally.
Personal Statement
I've always been around Absolutely Animals, growing up with dogs and having many fantastic memories of them. I never imagined one day I would be a member of the team, but here I am, in the administration department, keeping everyone happy. I hope you enjoy the website as much as I enjoyed working on it.
I'm not just dedicated to the business, I'm dedicated to the family behind it.