The staff at Absolutely Animals are keen dog and cat lovers. They share the same passion for ensuring the happiness and welfare of your pet and their care.
All the staff at Absolutely Animals update their knowledge and further their skills by improving qualifications and attending seminars both in the UK and abroad. The most up-to-date techniques and equipment are used on your pets, ensuring they have a safe and contented time during their grooming session.
The staff at Absolutely Animals are eagerly waiting to meet you and your pet.
You can meet all the team below:
Heidi Anderton -Principal, Head Groomer, Tutor
Pandora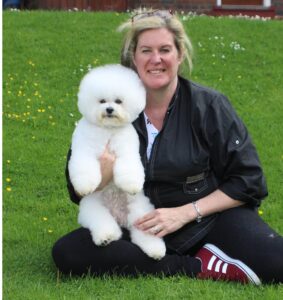 Heidi has been around dogs all her life and has two pet dogs at the moment; two poodles.
Heidi has operated Absolutely Animals since she founded it in 1995.
Heidi believes that continual training and skills gained in seminars, examinations, demonstrations, and competitions are important in delivering a quality service to Absolutely Animals customers as well as maintaining modern styles.
Heidi invests in the most up-to-date equipment, techniques, and skills to make the grooming experience an enjoyable one for you and your pet.
Your pets' enjoyment and experience of their grooming time is paramount to all the staff at Absolutely Animals.
Heidi also leads the team in the pet grooming services, adapting the options to suit all our feline friends and their owners.
Heidi is a highly qualified and multiple award-winning pet groomer both in the UK and abroad, including:
City and Guilds Qualified level 3 in dog grooming 1995
Higher Diploma in dog grooming 2005
Member of Guild of Master Groomers 2005 – 2014
LCGI – Level 4 City and Guilds 2007
Best in Show – British Groomer of the Year 2004
Groom Team England Member 2009-2011
Best in Show – Irish Professional grooming show 2014
International Certified Master Groomer – 2017
International Grooming Judge
Heidi has the highest accolades in the grooming industry and is a founding member of the British Isles Grooming Association. She is also a qualified dog and cat groomer, teacher, assessor, and internal quality assurance. Heidi is also an official International Certified Master Groomer.
Personal Statement
Hello, I am Heidi and I founded Absolutely Animals in 1995. I have been grooming for 30 years and have many achievements within the industry.
We continue our own development and invest in our school to deliver an individual learning plan to our students. We teach current techniques and use the most up-to-date equipment. We offer the well-known City and Guilds qualifications as part of our courses and the iPet Network. We will also teach you the tricks of the trade that aren't covered by the qualifications but come from years of experience.
We pride ourselves on offering a friendly and relaxing place to learn, which inspires and builds confidence in all our learners, and we welcome you to be part of that.
We support our learners every step of the way throughout their course and throughout their new careers or hobby.
You may find me in the salon doing checks and making sure everything is going well. I also just pop in sometimes to say hello. 😊
Tiffany
Prada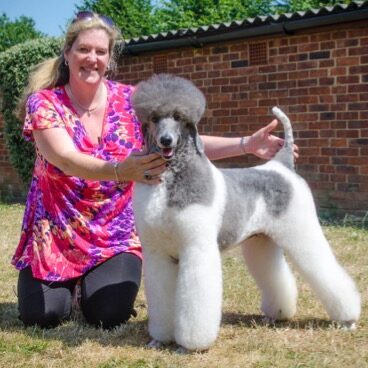 Groomania
Christine Anderton - Head Groomer and Tutor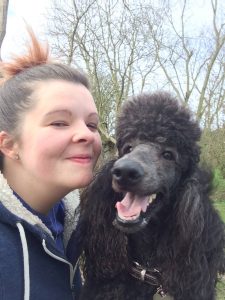 Christine has been involved in the salon since the age of 3 and has an exceptional talent for one so young. She has a special affinity for animals and is first class in the art of dog and cat grooming.
Christine has a strong path ahead of her in the industry. She is now the manager, tutor, and groomer.
Christine owns two poodles, Etti and Kendra.
Christine has her full City & Guilds level 3 in dog grooming and is also fully qualified in teaching and assessing.
Christine is a multi-international award-winning groomer:
Beginner Class – Toy Poodle First Place – Dutch United Groomers, Netherlands 2010
Young Kennel Club Groomer of the Year – Crufts 2011
Experienced Class – Terrier First Place – Groomer of the Year – 2011
Experienced Class – Poodle First Place – Mastergroom – 2015
Champion Class – Poodle 3rd place – Mastergroom – 2016
Champion Class – Poodle 2nd place – The Grooming Show – 2017
Pet Stylist of the Year – British Isles Grooming Association 2018
Champion Class – Poodle 3rd Place – Groomania International Show in Belgium
Personal Statement
I have been working at Absolutely Animals since I was very young. I love dog grooming and making the dogs feel fabulous.
I am a multi-international award-winning groomer. I won the Young Kennel Club Groomer of the Year in 2011 and have gone on to take first place in several poodle and terrier classes. I also won 1st place in a competition in Holland and 3rd in the Champion class in Belgium at Groomania.
I love teaching as it is a great opportunity to be able to pass on my skills to others and I enjoy seeing the learners accomplish their skills to start a business. It is wonderful to be able to help make changes in people's lives.
I take my role very seriously and am level 3 City and Guilds qualified in dog grooming, as well as holding a teaching and assessing award.
Nicole Whittle - Groomer and Tutor
Nicole has worked at Absolutely Animals for six years and is a passionate animal lover.
She has a unique passion for dogs and cats, and she will take care of all of their grooming needs.
Nicole has already completed her level 2 and level 3 dog grooming courses. Nicole also holds a teaching credential at the level of level three.
Nicole is always willing to help, with her bright smile and upbeat personality.
Personal Statement
I have been working at Absolutely Animals for over 6 years. I love spending time with the dogs and making them look pretty and healthy. It's great to have such a fun job and be part of a great team teaching learners from across the world dog grooming for a living.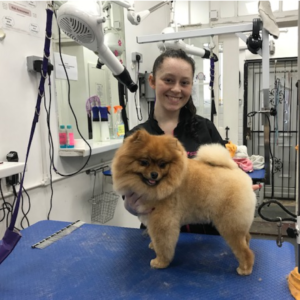 Kay Martin - Groomer and Support Worker
Kay has worked with Absolutely Animals for over seven years now and is an important part of our team.
Kay also loves cats and assists in their grooming.
You may often hear from Kay as she sees to a lot of our customers and students care.
Kay has two dogs of her own, Daisy and Pandora the Bichon.
Kay has passed her level 3 introductory and her level 3 diploma in dog grooming and has a level 3 teaching award.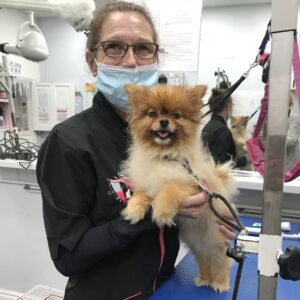 Callum Anderton - Groomer and Tutor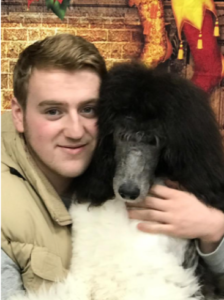 Callum has completed his levels 2 and 3 in dog grooming.
Eddie is the grandson of Heidi's poodle, Prada, and Callum's personal dog. You may see him at the salon on your visit.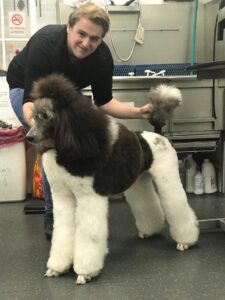 Perry Anderton - Administrator
Perry is the fourth Anderton to join the team. Perry loves dogs and has always been around dogs and cats.
You may see Perry in the shop at times as he works in the background and enables the running of the shop and website.
Personal Statement
I've always been around Absolutely Animals, growing up with dogs and having many fantastic memories of them. I never imagined one day I would be a member of the team, but here I am, in the administration department, keeping everyone happy. I hope you enjoy the website as much as I enjoyed working on it.
I'm not just dedicated to the business, I'm dedicated to the family behind it.