Welcome to our professional cat grooming page!
On this page you can find out more about the techniques we use, how they can benefit you and your cat and the results you can expect.
We cater for all breeds and types, the techniques and styles below may be modified to suit your pets requirements. This may be determined by your own personal request or by the coat condition, health, temperament or behaviour of your pet.
We abide by the professional core values set by the
British Isles Grooming Association  (BIGA)
International Professional Groomers Association
Animal Welfare Act 2006
Did you know? If you bathe your cat every 6 weeks it stops it matting
Appointment times are:   9:30am – Pick up 12:30pm   or   1:00pm – Pick up 4:00pm  – Tuesdays and Saturdays ONLY
All cats will receive free nail trimming and ear cleaning if required
Bath and Dry
Bathing and Drying
Eradicates parasites
Reduces moulting
Reduces matting
Degreases
Reduces furballs
Includes Conditioning
Bath and Dry
2 warm wet washes, an all over body massage, hand dry and a groom through removing all that old hair and debris from the coat.
Leave in conditioning treatment
Using only natural based products
Please see additional services for:
Flea baths and Intensive conditioning
Microchipping
Only £15 additional to a full groom (only £25 walk in)
Petlog – Lost Pet Microchip Reunification database and lost and found pet service
Don't forget to pick up your Absolutely Animals loyalty card on your visit to get 5% or 20% off every other time you arrive at check out.
Panel and Sanitary Trim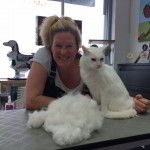 Panel and Sanitary Trim
Reduces and removes matting
Reduces moulting
Reduces furballs
Keeps hygiene areas clean
Makes for easier maintenance
Panel and Sanitary Trim
Panel Trim – Clipping from under the arms down the soft belly and groin area
Sanitary trim – Clipping around the genitals and the rear area
These techniques are a great way to maintain a semi long haired or long haired coat. Especially if your cat is prone to matting underneath or is sensitive in this area.
Body Clipping / Lion Trims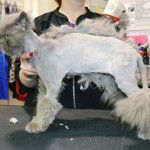 Body clipping and Lion Trims (includes panel and sanitary trim)
Partial Lion Trim
Full Lion Trim
Plume tail or Lion tail
Body Clipping / Lion Trims
Body Clipping – Removing just matts in the process of saving an unkempt coat. The coat left behind will cover the removed areas.
Partial Lion Trim – Removing all the body coat from the shoulders to the base of the tail
Full Lion Trim – Removing all the body coat from the top of the neck to the base of the tail
Plume Tail – Leaving the whole tail from the base to the tip
Lion Tail – Clipping 2/3 of the tail and leaving the lion pom on the tip
On all trims the hair on the legs will be left on – just below the elbow
Additional Services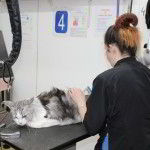 Additional Services
Dematting
Flea Baths
Microchipping
Difficult or aggressive behaviour
Learn to groom your own cat
Additional Services
Dematting
Flea Baths – Flea baths will kill the fleas on the cat but you will need to spray your house and introduce a regular flea repellant
Walk in Nail Trimming –  Come in any time without an appointment (call first to confirm)
Learn to Groom your own cat –
Microchipping –
Booking requirements
We can only groom so many cats per day as it is a time consuming service. For health and safety reasons we need two people present for cat grooming.
Cat grooming appointments require a £20 deposit on booking your cat which is non-refundable. The deposit is also non-transferable unless the appointment is changed 24 hours prior to the booking time.
There is a £55 minimum charge for cat grooming
What should I do before bringing my cat in the shop?
Do not feed your cat within 2 hours of its appointment.
Please make sure your cat comes in a secure basket.
How do I get my cat in the basket?
Keep your cats basket in the house as a bed. This associates your cats basket as a safe and secure place to be and they will go in willingly.
If you store your cats basket in a garage or store room, place them in the house a few days before your appointment.
Put your cat in the basket in a secure room with some treats in the basket.
Will my cat be near any dogs?
We dedicate Tuesdays and Saturdays to cat grooming.
We groom in other rooms apart from the main salon, so the cats are not in contact with any dogs.
My cat has knots and/or matts
We have to assess individually each animal including the coat condition, health and behaviour as there are various techniques and equipment we can use to rid the coat of matts and knots and to leave the cat feeling more comfortable.
Please contact us for a free consultation.
What if my cat is aggressive?
Please tell a staff member at Absolutely Animals immediately when dropping off your cat if they have any behaviour difficulties. This includes biting, growling or scratching.
Please contact us for a free consultation
Why does it cost more for a cat to be groomed than a dog?
It costs additional money because it is a time consuming process and there are more safety issues with cat grooming so we need to provide two staff.
How long will it take to groom my cat?
You will need to bring your cat in at
9:30am and pick up at 12:30pm or
1:00pm and pick up at 4:00pm
unless otherwise arranged