Why does grooming my pet cost so much?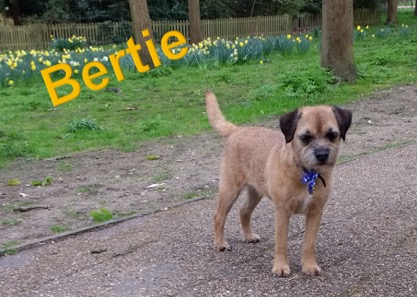 Hi all,
I often hear; Shall I come back in 20 minutes? How much is it?…. i often see a shocked face when i tell the price! Why is it so expensive? Can you do it cheaper? If I bring one dog can you do the other for free? My pet's hair-cut costs more than my own hair!
You might already have said it yourself! Putting a value on pet grooming probably isn't something you may know much about or have even thought about, but;
"I wanted to let you all into a little secret"
Our pet grooming is actually priced really well for the service you receive. You do get great value for money and here is why!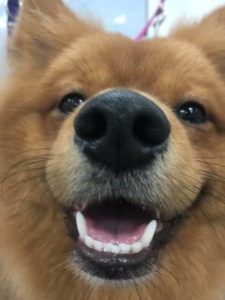 Grooming dogs and cats is a time-consuming service. Why?
We can only groom so many dogs and cats in a day because pet grooming is a time-consuming service, why?! Because we are dealing with a live animal who has his own thoughts and feelings and this changes everything!
How long each animal takes, is variable. If we try to quicken up the service too fast most animals will get scared, anxious and upset – this in turn makes the service even longer and not only stressful for the animal but also stressful for the groomer too. We need to be patient and have time with your furry friends, so they will enjoy the grooming taking place. I am sure this is what you want too?
Of course, then there are the jobs to be carried out, bathing, drying, conditioning, trimming nails, trimming bodies, heads, ears, legs, feet, tails and rears. Teeth cleaning, spa packages, the list goes on!
Another thing that makes the grooming service even longer is animals that are, hand shy, not handled enough at home and pets that have learnt how to avoid grooming, often by biting or bad behaviours.
We need to be extra supportive, gentle and caring with these animals, which will often take a longer time therefore costing you a little more, but I believe it's worth it!
Included is a consultation for your dogs or cat.
When you bring your pet to us, you will fill out a card outlining all your pets' details and past history, medical, grooming, general behaviour and life history. We need to have a good overview of your pets past experiences.
We will discuss your pets' grooming and hairstyle with you and give you guidance on how this will be best achieved and in fact if it is possible on your pet. The style you choose may need a lot of general upkeep at home that you cannot meet, your pet may not have enough coat to achieve the trim or it may require a technique not suitable for your dog. Whatever the reason, we will help you to make the right decision.
We can also help you to put a grooming plan into place, to be able to achieve the look you are after, taking into consideration the present condition of the coat and the dog's own disposition. So, bring a picture of how you want your pet to look and lets discuss.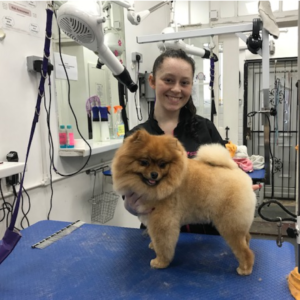 We have Overheads!
Sorry to bore you here, but we have huge overheads to be able to offer this service to you. Rent, Rates, Taxes, Utility Bills, Wages, the list could go on, but you get my drift…………………
Skilled Professionals are here to oversee the grooming of your pet.
We are a team of practiced and skilled groomers, highly qualified and experienced in our field, continually investing and developing our professional skills, we are fore runners in our industry, helping to improve grooming, for all groomers and pets, nationwide. We are founders and honorary members of the British Isles Grooming Association and are currently involved in this association's development. I myself have represented England in a world dog grooming competition as part of Groom Team England.
Your pet simply couldn't be in better hands!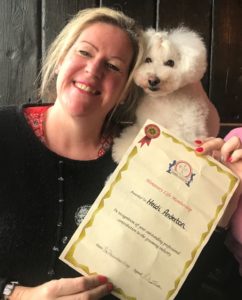 What happens to your dog in the salon?
When your dog comes into the salon, we will assess his mood, character and health. We will get to know your dog and gain their trust. This makes the grooming much nicer for your dog so we can reassure them if they do get a little nervous.
We begin by bathing and conditioning your dog, part drying your dog, removing any unwanted hair. And then drying what is left. We use several methods to achieve this, depending on the coat condition and temperament of the dog. Getting ready for styling can be a lengthy process. You can see the dog grooming services here!
Styling the coat is usually done when the coat is clean, dry and conditioned. By now your pet will understand what is going on and be enjoying all the attention.
A lot of dogs, especially the small ones, don't like their feet and legs being touched. We have various methods to get the legs, feet and nails done, as you can imagine, this can take more time. We do have some magic tricks for this, but the best one is for the legs and feet to be touched at home on a regular basis; then this part of the grooming will be a lot less anxious for the dogs and a lot less time consuming.
It is also beneficial for your dog to come to us regularly for grooming, so they know what is going on and get to know us. This always helps to reassure your pet.
All dogs go home with a beautiful bow and finishing cologne spray, and of course a cuddle. We will let you know how the grooming went for your dog and also highlight any issues we may have found or improvements that could be made for the general coat care. Grooming at home has lots of benefits.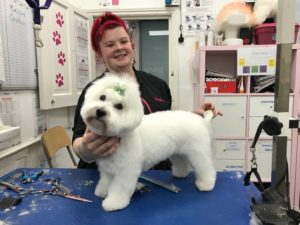 What happens to your cat in the salon?
Cat grooming is slightly different to dog grooming, as you can imagine. Cats can be less tolerant, when it comes to anything, so we have a designated quiet room away from the dogs and the dog grooming room for your cat.
When your cat comes into the salon, we will assess his mood, character and health by consulting you and assessing their behaviour.
We will get to know your cat and look to gain their trust. This makes the grooming much nicer for your cat as we can reassure them if they do get a little nervous.
We begin by getting your cat out the basket, letting them have a look around and then cutting their nails. This needs to be done for the staff's health and safety. Hooked nails can do a lot of damage to human skin.
We then progress to properly assessing the work to be carried out. It may just be a case of a straight forward, bath, dry and groom through or clipping out some knots or removing a whole coat. Removing a cat coat is often is done through necessity and other times it is requested by an owner, we do both as long as the health of the cat is not compromised. You can see more on cat services here!
We provide
We always provide 2 persons for cat grooming; this makes grooming more enjoyable for your cat and another also meets the health and safety requirements for the groomers. Of course, this also increases the cost of cat grooming making it a more expensive service than dog grooming.
It is also beneficial for your cat to come to us regularly, so they know what is going on and get to know us. This always helps to reassure your cat in the long term.
We use several handling methods with cats, depending on the coat condition and temperament of the cat.
By now your pet will understand what is going on and be enjoying all the attention. Contrary to most common belief, most cats actually love the grooming service.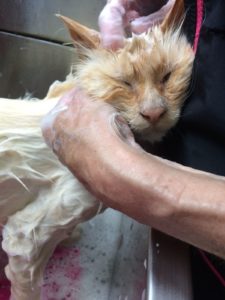 Your Pets Behaviour will have an impact on the price you will pay.
We are very knowledgeable at handling difficult (sometimes over excited) or aggressive animals compassionately, to get the job done. We have grooming experience of over 50 years between us which entitles us to get the work completed on your pet safely and compassionately, whatever the issues we face. Sometimes as in the case of the cats, we need three persons to safely get the job completed.
If you want to save the £5, £10, £20 or £30 additional charges off your grooming fees because of your pet's unusual behaviour, then you really need to handle your pet often at home. Touching legs, feet, head, ears, tail and rears gently will accustom your pet to being touched all over, so they are used too intimate handling. If you are having problems, then give us a call and we will give you some ideas to work around any issues.
Look here for the dog grooming and cat grooming pricelists.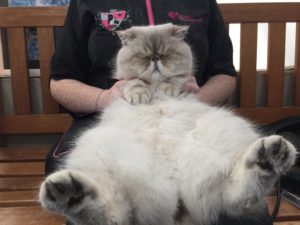 Get your Absolutely Animals Loyalty card!
We understand that paying for regular grooming could be expensive, so we reward our loyal customers by giving them regular discounts. You can receive a 5% or 20% discount, every other time you visit us. Just make sure you have the card signed by a member of staff. Remember we record every visit your pet makes but you will still need to present the card on each visit.
I like to think of us as your second pet parent, we have the same thing in common, the happiness health and welfare of your pet. So please talk to us and let us help you to manage the skin and coat condition of your pet, perfectly.
Now we have the basics out the way, next month I'm going to be talking about knotted/matted coats and how this really affects the grooming service.
Hope to see you and your pet soon
Heidi