Pet Grooming Services in London
Have a dog or cat that needs grooming? Take a look at what we can do to help!
Your pet should generally be groomed professionally every 6-8 weeks
Grooming services usually include bathing, conditioning, drying your pet, groom out any small tangles, trim nails in excess and give your pet a basic health check.
In-between professional grooms, each week,  you will need to maintain your pets coat by brushing and combing.
You should you groom your pet weekly at home and here's why…..
It is a pet owner's responsibility to maintain good skin and coat condition for their pet.
This includes regular brushing and combing. The comb should run freely through the coat.
Regular grooming promotes good health by:
Stimulating the skin and promoting good blood circulation
Aerating the coat ensuring healthy growth
Brushing away cast and loose hairs, dander and grass seeds
Avoiding knots and mats from forming
Creating a good bonding time – reducing stress for you and your pet
Increases the joy of being handled for your pet
Increasing the chance for a few treats and rewards for your pet
A Good time for a health check and to getting to know your pet better
A Time to inspect for any parasites in coat, skin or ears!
To attract admiration for your beautiful pet
Minimising huge vet fees and additional grooming fees
Not grooming your pet regularly can cause:
A dull or greasy coat and itchy skin
Knots and matts in the coat
Lots of loose hairs and dander in the coat
Grass seeds which can enter the dogs skin and cause internal damage
Dog can get stressed and aggressive when grooming time comes around
Parasites and fungus can live un- noticed in your pets' coat and ears causing infections, pain and distress
Increases your vet and grooming fees
We can help you!
If you are not able to groom your pet regularly or your pets coat has got out of control – give us a call and let us help you!
We understand its not always easy to maintain good coat condition of a pet. But whatever the reason is we can help you to resolve the situation and help you put a plan in place and improve the coat maintenance of your pet for the future.
We are here to help you have the maximum enjoyment with your pet.
Come along with your pet and we will show you how to maintain the coat using the correct techniques and equipment.
ONLY £20 (Call to book)
"I am a first time pet owner and cannot sing the praises of Absolutely Animals enough. From the very first time I walked into the shop I felt a sense of support and care. The advice I was given and the time spent with both myself and my dog was above and beyond my expectations. On three occasions I have appeared on their doorstep stressed and on the verge of tears as my dog has rolled in something awful and I simply couldn't face the task. No matter how busy a space has been created and a quick solution found to help me. Their help is genuine, their care of my little dog is wonderful. Nothing is a problem and the service they provide is very reasonable. I can't recommend Absolutey Animals enough." Vanessa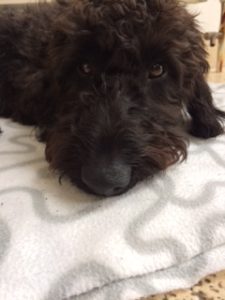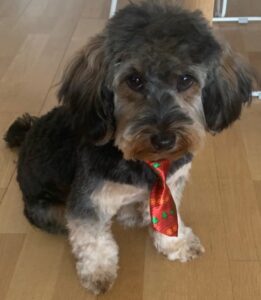 "I recently booked my Yorkiepoo puppy Frida for a groom and teeth clean at Absolutely Animals on the recommendation from someone in the park. From the very first communication, Heidi and the team were efficient and friendly, helping me to decide what treatments I needed for Frida, the type of groom I would like and organising for her to be picked up and delivered back to me as I don't have a car. I had to alter the appt at short notice as Frida was poorly, which they accommodated with care.When she was well again,  Frida was picked up from my house and delivered back to me a few hours later looking and smelling great – and wearing a very smart silk tie! I would highly recommend Heidi and her team and will look forward to sending Frida back again!"
Thanks, Katy 2020
We offer a Collection and Delivery Service for those who cannot get their pet to us.
What can we do?
♦   Collections and deliveries for salon appointments
Terms and Conditions
£3.50 per mile on collection and delivery or £25 standard minimum fee
Surcharge of £10 for two dogs
Payment for salon service to be paid over the phone by debit/credit card
The driver is to be paid cash for this service separately
Collection times are 9-9:30am and 12-12:30pm depending on your location