Dog Grooming Exams and Workshops
At the end of the dog grooming courses, participants will take exams to prove their professional ability. This will take the form of both online exams and practical exams. Find out more about the available dates for the Online exams.
Here at Absolutely Animals, we also pride ourselves on the support we provide our learners, even after their courses have ended. That's why we offer Dog Grooming Workshops where learners can continue their professional development in the industry. Check them out!
Online Exams
The Gola exam will conclude the level 2 qualification you have taken.
You will receive your final certificates once they are passed.
There are presently two available as we change over to the 7863-02:
7763-02 – Gola Level 2: 90 minute Online Multiple Choice

7863-02 –  Gola Level 2: 90 minute Online Multiple Choice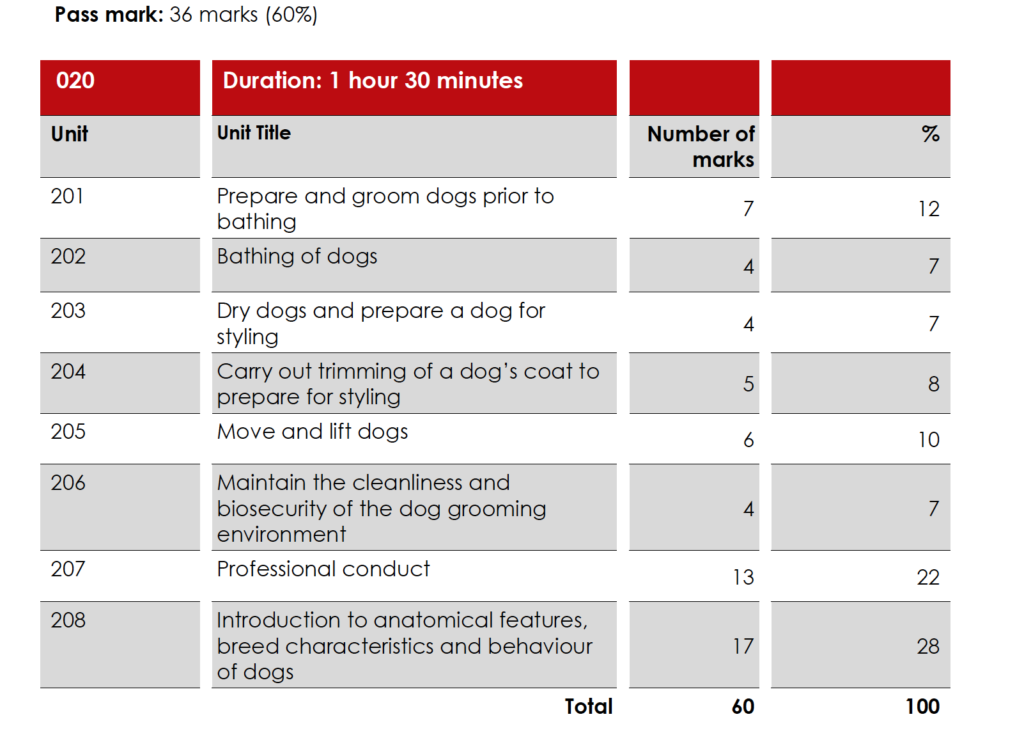 These exams are available on the following dates in 2022 at Absolutely Animals:
19th Jan, 16th Feb, 16th March, 20th April, 18th May, 15th June, 20th July, 17th August, 21st Sept, 19th Oct, 16th Nov, 14th Dec
Past papers can be provided by your tutor
7863-03 – Evolve Level 3:   09:30-11:30am
Tuesday  14/06/2022   9:30am start    2hrs
Wednesday 09/11/2022  9:30am start    2hrs
Find an example of the written exam for the 7863-03 here! 
Workshops - Collect your Attendance Certificate - Only £75 - Please call to book all workshops
Poodle Grooming - TBC
"Thank you so much to Heidi for hosting such a great day – it was fun, informative and interesting, all in a well set-up environment. I highly recommend Absolutely Animals to anyone looking to further their knowledge. Heidi (and Christine) are amazing, and their skills and experience inspirational! Thank you." Natasha Barnes Hutchinson
"Thank you Heidi for the fabulous poodle seminar today. I can't wait to try out some new tips and post some pictures. The dogs were amazing and I met some lovely groomers. I'm looking forward to the next one." Alison Avery
"I thoroughly enjoyed the Poodle Seminar today. Heidi, you are an inspiration teacher. Loved it! Thank you." Sally James
"Been back to my old grooming school today to a Poodle Seminar where I got to have a go on my pup, Lumi. Heidi Anderton is an amazing teacher – love watching her work her magic. Will be back for the next one!" Ellie Linsell
Handling Difficult Dogs in the Salon - TBC
"I attended Heidi Anderton LCGI's Difficult Dogs Seminar and found it very helpful. It gave me some new skills to help with difficult dogs. Heidi was a great presenter and kept the seminar fun, relevant and interesting. I recommend this course to any groomer who wants to further their knowledge." Paula Haines
"Heidi Anderton LCGI's seminar on handling difficult dogs was extremely useful. It has been one area that I have found tricky since qualifying. Heidi offered helpful, reassuring, and easy to apply tips that I have already put in place. The suggestions on equipment to use in the cases were also really useful. Thanks for letting me bring along my difficult dog! I would highly recommend this seminar to any groomer." Laura Sands
"Since I passed my course at Absolutely Animals, I have used the Facebook page for many things. It's great for asking for help, getting different options and it's a great safety net for all who have just passed who may need after-support. It's a valuable resource to all." Kim Hayes
"After training with Heidi many years ago, her team has been of continual support since I did my course way back when. I remember a few times calling them from work in a panic, asking for help (usually with handstripping!) and they were always so helpful. It's nice to see on the student Facebook page that people are still receiving the aftercare that I did. It's not just a course you get at Absolutely Animals, it's also continued and free membership to a group of supportive individuals who work together to help each other succeed in a new trade." Caroline Cogan
"The aftercare service is a unique and valuable facility to those who need any help and support to continue the excellent courses supplied by Absolutely Animals. As a lone groomer, it's reassuring that Heidi and Christine are on-hand to assist if needed. Would highly recommend the fabulous school and all it offers for a rewarding onward career!" Amanda Hyde
"Completing your City & Guilds course at Absolutely Animals is just the beginning of your journey into the world of grooming – you never really leave the nest entirely! Heidi and Christine always have their door open for friendly advice, support and encouragement when you need it. This is invaluable to anyone embarking on a new career. Further courses are always on offer to develop and gain more skills, and the Student Grooming Group Facebook page is a place to ask questions, share experiences and offer advice to fellow students (past and present). Well done Absolutely Animals, you have a winning formula!" Debbie Granger