Prices of Dog Grooming Courses
By joining us at Absolutely Animals, you are not only guaranteed professional training in dog grooming but also our continued support throughout your career.
We have been teaching dog grooming for over 30 years and are international award-winning experts in our field. Be taught by professionals.
Join us and you can be an Absolutely Animals achiever too!
Below, you'll find the fees and payment options for our dog grooming courses. If you have any questions, please don't hesitate to get in touch by calling us on 020 88572888 or emailing us at info@absolutelyanimals.biz.
We understand that all our learners are individuals and therefore require a varied amount of support. We want you to achieve the skill of dog grooming and to be competent, confident and comfortable when delivering it. We have a course for everyone.
Dog grooming skills and qualifications can be achieved through three different pathways, each is dependent on the learner's individual circumstances, level of experience, self-confidence and what they are looking to achieve.
The prices of dog grooming courses depend on the route you wish to take. Find out more below:
1) Grooming for a Living Courses – everything you need to start up your own business and ideal for those with no or little experience. This is a faster track option as you will begin styling straight away. The days included are mostly practical based on tuition, you will also have a robust theory plan to complete at home.
2) Take each qualification individually – ideal for those who are already working in a salon or have some experience working with animals. This can be a longer route.
3) Dog grooming qualification assessments – experienced groomers only.
If you are looking to take the assessments only, you must already be practising as a professional dog groomer and be able to meet the standards required.
You will also be required to provide photographic evidence of some recent work.
Completed open learning home study plans are provided for each qualification.
Additional courses we offer:
Click here to pay via the shop
The Gold and Platinum courses come with a fantastic starter pack which you will be able to take away with you when you leave, as well as relevant City and Guilds qualifications which can also be included (Level 2 Introductory and Level 3 Diploma). This has everything you need to start a dog grooming career.
If you are unsure which course is right for you, get in touch and we'll happily talk through your individual requirements and find the best option for your goals.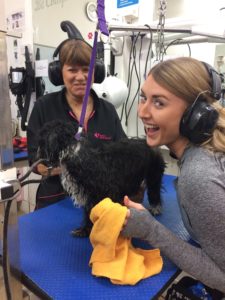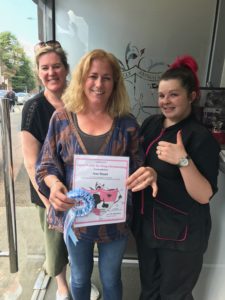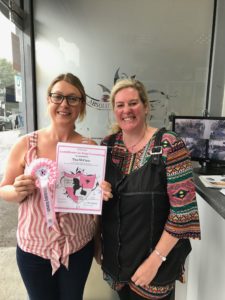 "I have never felt more supported to achieve and thrive. The support and patience given by Heidi and Chris during the course is immense, and that does not stop after you fly the nest! I feel like part of the family at Absolutely Animals and that extends to all of us who have spent time here. Having somewhere like the Facebook page to share your thoughts and worries, vent and ask for help without being judged is amazing and very rare. Flying the nest and setting up on your own is scary, but not when you have the Absolutely Animals family and the team behind you. Thank you!" Sophie Foxton
"The Absolutely Animals Facebook group is a brilliant resource for help, ideas and advice. It's a lifesaver, especially when you are in the beginning of your career and need some reassurance." Sylvia Marks
"The ongoing support continues long after training has finished. Heidi and Christine are very down to earth and encouraging, they become like extended family and the opportunities are there for however far you want to go." Sue Wright
"It feels like being part of a very special family with a huge safety blanket. Life changing. Thank you so much." Sally James