We're here for you, every step of the way, on your journey. Get qualified now, and do what you love to do!
City and Guilds qualifications are necessary for people that want to specialise in a technical occupation like the business of dog grooming.
A City and Guilds qualification will prove you're capable and most importantly, a certificate gives you the recognition and self confidence to succeed and prove your worth.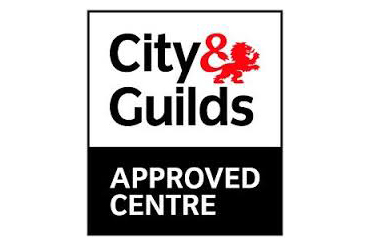 At Absolutely Animals, both our Gold and Platinum Dog Grooming Courses include the City and Guilds dog grooming qualification that you require to begin a career in the industry.
We offer a range of courses, including an assessment option for the City and Guilds dog grooming qualifications which is specifically aimed at competent dog stylists.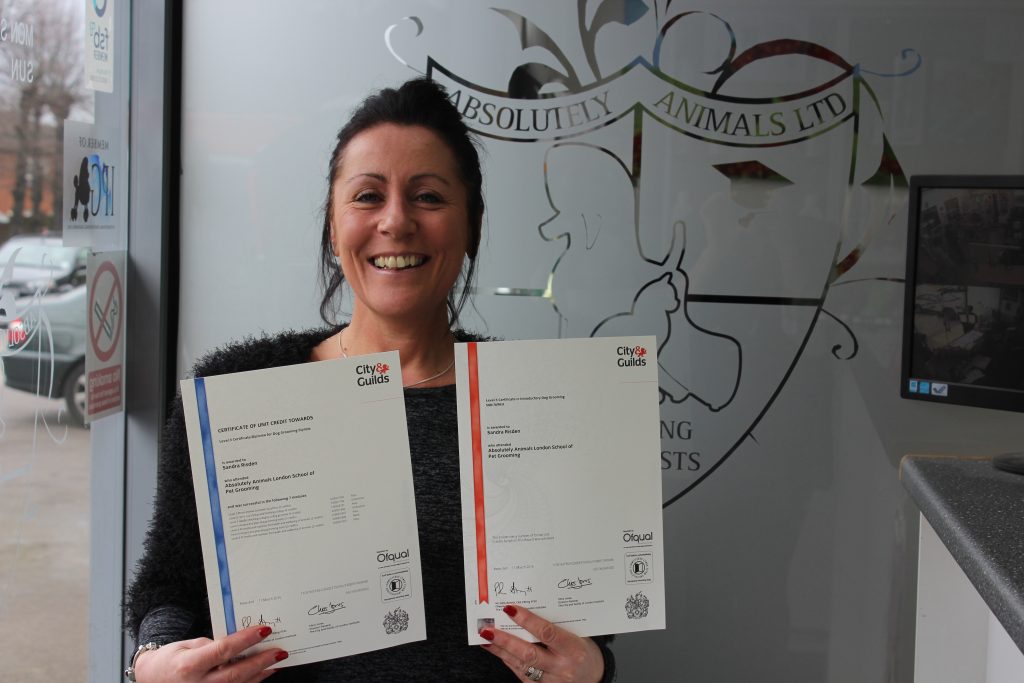 If you're not sure which of our courses is right for you, have a look through our course pages or get in touch with a member of our team. They'll be able to talk you through the City and Guilds dog grooming courses that we provide, and discuss the best option for you.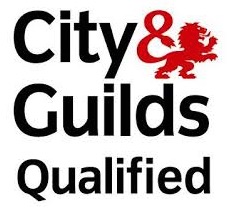 Here is what others who have done our courses have to say...
The Level 2 qualification is ideal for anyone looking to begin or build a career in the dog grooming industry. There's no need for any previous qualifications or experience in dog grooming for this specific course.
Over the 10 day period of the course, you will learn the skills and knowledge you need to become a dog groomer assistant, and will ultimately achieve the necessary City and Guilds dog grooming qualification for grooming assistants.
The level 2 is required before you can progress to level 3; our grooming for a living courses include this level 2 qualification.
The 10 day course consists of 6 different units:
Preparing and grooming dogs prior to bathing
Bathing of dogs
Drying dogs and preparing a dog for styling
Carrying out trimming of a dog's coat to prepare for styling
Moving and lifting dogs
Maintaining the cleanliness and biosecurity of the dog grooming environment
Professional conduct
An introduction to anatomical features, breed characteristics and behaviour of dogs
Absolutely Animals Manual
Open learning home studies
At the end of the course, you will be assessed on each unit by our professional team here at Absolutely Animals, and you will also take an Gola online test. The fee includes the qualification fee, along with your City and Guilds dog grooming qualification certificates.
The  Level 3 Diploma (7863-03) in Dog Grooming. The course can be taken on a 23 day course with the team here at Absolutely Animals.
During the course, you will cover all the necessary skills to progress in a career as a professional dog groomer. The mandatory content covered over the period of 23 days includes:
Health and safety requirements
Legislation and codes of practice for the dog grooming industry
Preparing, styling, and finishing a dog's coat
Including Practical skills of : Hand stripping, Scissoring, Clipping & Blending
Health-checking and handling a dog in a dog grooming environment
Customer service and record-keeping in a dog grooming environment
Assessments:
After completing the course, you will be assessed through an online written exam which will prove your knowledge and understanding within the qualification, as well as a practical assignment to show the important skills you've acquired during the course.
By achieving the ultimate qualification, you demonstrate to future employees or to future customers that you have all the necessary technical skills and knowledge they are looking for when recruiting or seeking professional dog grooming services.
You must have previously completed the Level 2 Dog Grooming course (7763-02) to enrol on this exam. Candidates must also have completed a first aid training day – please see our exams page for animal first aid training days, hosted by a qualified RVN nurse.
You can have a look through the 7863-03_L3_Diploma_in_Dog_Grooming_Qualification_handbook_v1-3 pdf
Voted Grooming School of the Year 2015
Invest in your future with professional training at Absolutely Animals
Tutors are Qualified and International Award Winning Groomers
Value for money courses
Everything you need to groom for a living
Courses are Quality Assured
City and Guilds Approved Centre for dog grooming
Avoid loans – See our pay-as-you-go option
Follow the link for the course and qualification prices