City and Guilds Dog Grooming Qualifications
City and Guilds qualifications are necessary for people that want to specialise in a technical occupational or an occupational group, including within the business of dog grooming.
At Absolutely Animals, both our Gold and Platinum Dog Grooming Courses include the City and Guilds dog grooming qualification that you require to fulfil a career in the industry. We offer a range of courses, including an assessment option for the City and Guilds dog grooming qualification which is specifically aimed at competent dog stylists.
If you're not sure which of our courses is right for you, have a look through our course pages or get in touch with a member of our team. They'll be able to talk you through the City and Guilds dog grooming courses that we provide, and discuss the best option for you.
Level 2 Certificate for Dog Grooming Assistants (7763-02) (QCF)
The Level 2 qualification is ideal for anyone looking to begin or build a career in the dog grooming industry. There's no need for any previous qualifications or experience in dog grooming for this specific course.
Over the 10 day period of the course, you will learn the skills and knowledge you need to become a dog groomer assistant, and will ultimately achieve the necessary City and Guilds dog grooming qualification for grooming assistants.
The level 2 is required before you can progress to level 3; our grooming for a living courses include this level 2 qualification.
The 10 day course consists of 6 different units:
Preparation and grooming of dogs prior to bathing
Bathing and cleaning dogs
Cleaning and maintaining grooming equipment
Controlling and restraining animals
Drying dogs and preparing coats for styling
Basic trimming of dogs' coats
Absolutely Animals Manual
Open learning home studies
At the end of the course, you will be assessed on each unit by our professional team here at Absolutely Animals, and you will also take an Gola online test. The fee includes the qualification fee, along with your City and Guilds dog grooming qualification certificates.
Level 3 Diploma For Professional Dog Stylists (7763-03) (QCF)
Please note: New enrolments  for the Level 3 course (7763-03) have now ceased. However, if you have not completed the Diploma part of the qualification and are still within the 3 year time frame since initial enrolment, you can still complete, final time runs out in August 2020.
The Diploma for Professional Dog Stylists is aimed at those who have experience in the dog grooming industry. If you need help gaining the Diploma or find yourself lacking in experience of handling and styling different types of dogs, our course will help you.
To gain your full qualification, you will need to complete 4 of the units, between the following mandatory units and the optional units.
Mandatory units:
Hand stripping a dog (eg. a Border Terrier)
Styling and trimming a Spaniel's coat
Styling and trimming a Long-Legged Terrier
Optional units (choose from one of the two):
Styling and trimming a Poodle's coat
Styling and trimming a Long-Legged Terrier or Miniature Schnauzer
If you only want access to individual units or if you would like a package that is suited to your personal requirements, have a look at the document at the bottom of this section.
Fees:
The fees for this course include registration, all assessments and the certification itself. We also offer a variation of professional support that is included in the price, including:
Mock exams
Individual tuition
Remote assistance
Supply of suitable dogs
Confirmation of your level of expertise to enter the exam
Register by filling in the forms below. If you are bringing your own dogs, please only fill in the form on the 'Register here' button.
Browse through the Diploma 7763-03 Qualification Handbook here.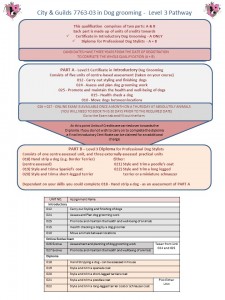 Level 3 Diploma in Dog Grooming (7863-03) (QCF) - New for 2017!
The newly launched Level 3 Diploma(7863-03) in Dog Grooming has replaced the previous Level 3 option. The new course can be taken on a 23 day course with the team here at Absolutely Animals.
During the course, you will cover all the necessary skills to progress in a career as a professional dog groomer. The mandatory content covered over the period of 23 days includes:
Health and safety requirements
Legislation and codes of practice for the dog grooming industry
Preparing, styling, and finishing a dog's coat
Health-checking and handling a dog in a dog grooming environment
Customer service and record-keeping in a dog grooming environment
Assessments:
After completing the course, you will be assessed through an online written exam which will prove your knowledge and understanding within the qualification, as well as a practical assignment to show the important skills you've acquired during the course.
By achieving the ultimate qualification, you demonstrate to future employees or to future customers that you have all the necessary technical skills and knowledge they are looking for when recruiting or seeking professional dog grooming services.
You must have previously completed the Level 2 Dog Grooming course (7763-02) to enrol on this exam. Candidates must also have completed a first aid training day – please see our exams page for animal first aid training days, hosted by a qualified RVN nurse.
You can have a look through the Diploma 7863-03 Qualification handbook here.
Fees
Voted Grooming School of the Year 2015

Invest in your future with professional training at Absolutely Animals

Tutors are Qualified and International Award Winning Groomers

Value for money courses

Everything you need to groom for a living

Courses are Quality Assured

City and Guilds Approved Centre for dog grooming

Avoid loans – See our pay as you go option

Follow the link for course and qualification prices