Cat Grooming – Wet and Dry Bath
Wet Bath
2 warm wet washes, an all over body massage, hand dry and a groom through removing all that old hair and debris from the coat.
Bath and drying every 4-8 weeks dramatically improves the condition of your cat's coat and reducing the need for intensive grooming at home.
Leave in conditioning treatment
Using only natural based products
Degreasing the coat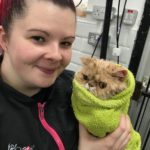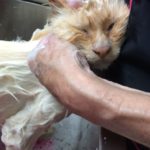 Dry Bath
We use a dry bath on cats who need to be cleaned but cannot have a wet bath. We reserve the right to decide which bath is most suited to the cat on the day as other contributing factors may apply, such as health or temperament.
Please see Additional Services for:
Flea baths and Intensive conditioning and de-matting
Please note that bathing is not included in any of the cat grooming services (apart from the bath and dry) and is an addition fee
Bathing can only be carried out on compliant cats
To book your cat in for a Wet and Dry Bath, please visit our book online page or give us a call.